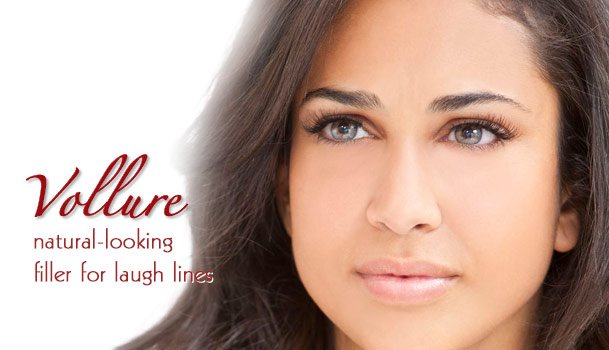 Vollure XC at La Nouvelle Medical Spa, Oxnard
JUVÉDERM VOLLURE™ XC is the newly FDA approved injectable filler designed to add volume beneath the nasolabial fold (laugh lines) to lift and contour using Vycross technology which creates a more connected gel (firm enough to fill and soft enough for natural movement), to create a more youthful appearance. Its breakthrough is that it's more natural-looking and lasts a full year longer than other injectables on the market.
The Benefits of Vollure
Juvéderm's next-gen HA filler Vollure is designed to improve the quality and duration of wrinkle treatment as well as meet patients' ever-evolving needs. The following are just a few of the benefits Vollure has been shown to deliver:
Reduction of laugh lines
Designed to add natural-looking volume to facial folds and wrinkles
Noticeable improvement in 3-6 months
Continued wrinkle-free effects for up to 18 months
Balanced, even, smooth skin
Vibrant, youthful appearance

How JUVEDERM VOLLURE XC works
A hyaluronic acid gel injection (compatible with the human body as it's naturally found in almost every single living thing,) acts like an inflated cushion to support facial structures and tissues that may have lost volume or elasticity due to normal aging. It also brings water to the surface of skin to keep it looking fresh and supple.
What we love about it?
This is the longest lasting injectable filler in its category. It's immediate and reversible. It allows changes in the contours of the face. And it lasts up to 18 months. The new formula produces minimal swelling, which means shorter recovery time and less discomfort. It adds a subtle volume and can be last 3 times as long as comparable products. A great choice for men - it's practically indetectable.
What to expect?
Before beginning treatment, we will examine the nasolabial area to determine if JUVEDERM VOLLURE XC is right for you. Then we will tailor a treatment designed for your aesthetic goals. One treatment (some patients require a touch-up) is complete in 15-20 minutes. You will likely experience some tenderness, swelling, bruising, or itching for up to 2 weeks.
Are There Any Possible Side Effects?
Because hyaluronic acid is a naturally hydrating substance found in the human body, Vollure synthesizes easily. The result is fewer side effects that are also milder and more short-lived than those from other facial filler treatments.
Common side effects after a Juvederm Vollure treatment session include the following, usually near the treatment site: swelling, tenderness, bruising, firmness, redness, soreness, itching, discoloration, and the formation of lumps or bumps on the skin.
All side effects should subside within a week.