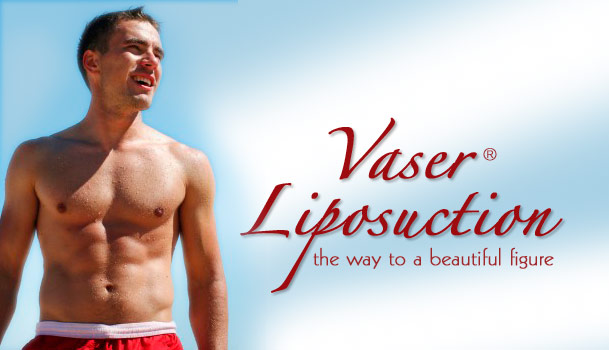 California leaders in Vaser Liposuction, #1 in Ventura County!
VASER Lipo has been the choice for thousands of men and women. It's an ultrasound liposuction that offers a highly successful way to remove unwanted fat on just about any part of your body, including:
• Arms • Hips • Chest • Breasts • Knees • Ankles • Waist • Stomach • Chin • Back • Buttocks • Neck • Thighs
With VASER Lipo, Dr. Hanna can perform everything from minor touch-ups to major transformations. The next generation in body contouring, VASER Lipo, or LipoSelection, uses ultrasonic energy to precisely break apart fat deposits between the skin and muscle for easy, safe removal. Whether you need fine-tuning or significant fat reduction, VASER Lipo enables Dr. Hanna to do his best work.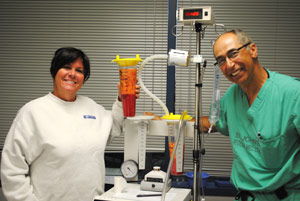 Right after the Vaser Lipo surgery! Hooray!

Liposuction Before and After Images*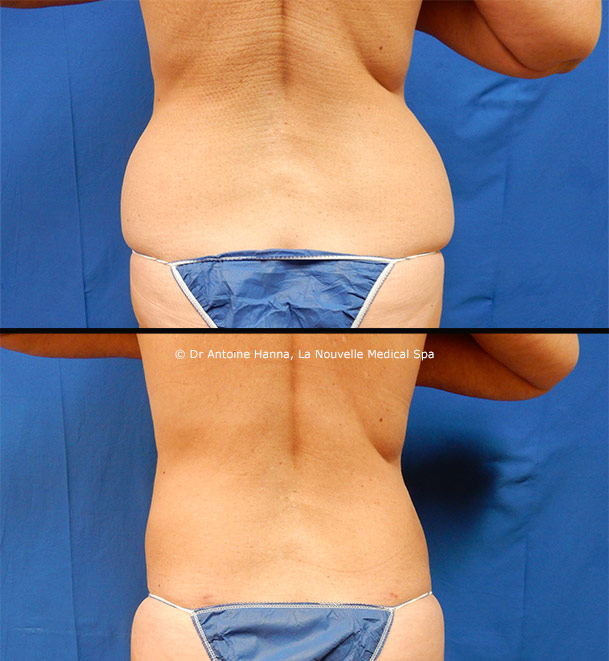 See what our patients say about the procedures by Dr. Hanna*
"I had my liposuction done 2 months ago at La Nouvelle. Dr. Hanna and his staff had taken such great care of me. Dr. Hanna did such a great job that you can't tell I had work done at all. It appears to be very natural. The incision marks are so little. I saw results right away and it's totally amazing. I am 100% satisfied with the results and the level of care I experienced from Dr. Hanna and his staff. Thank you! "
Rebecca L
"My liposuction was a great success and I am sooo happy with the results. I would definitely recommend this procedure to anyone that has a problem area. My clothes fit better now. I feel sexier, more confident and no longer afraid to be noticed anymore! I would definitely return to La Nouvelle for more! "
Helen, Woodland Hills
"The liposuction procedure that I had with Dr. Hanna was surprisingly painless and the recovery just past by so quickly! I am so very delighted with the results and would definitely recommend La Nouvelle for making my first liposuction experience smooth and satisfying. Thanks for helping to make my lifelong dream come true."
Jessica O.
"I am incredibly thrilled with my results of tummy, inner/outer thigh liposuction done at La Nouvelle. I have a flat stomach for the first time. I can already wear skirts and shorts that used to be too tight on my thighs. My husband loves the results and I am so confident on how great I look - healthy and natural! Thank you. "
Susie G., Thousand Oaks
People come in all different shapes and sizes. Now you can have the body you've always wanted with fast recovery and smooth results.
Science behind the VASER Lipo System (Liposuction)
VASER Lipo, or LipoSelection, uses an ultrasonic liposuction technology that is tissue-selective. The ultrasound energy targets unwanted fat, but preserves other surrounding tissues - such as nerves, blood vessels and connective tissue - to promote smooth contours and rapid healing. Maximum results and minimum downtime are what you can expect with VASER Lipo. Please scroll down to see Before and After Images.
1. The fatty layer is infused with tumescent fluid.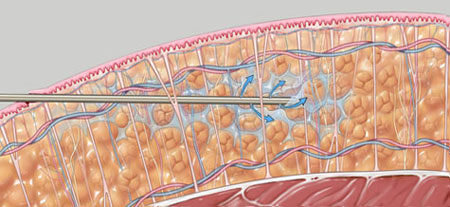 2. The high frequency vibration of VASER Lipo ultrasonic probes causes the fat cells to break apart and emulsify into the infusion fluid.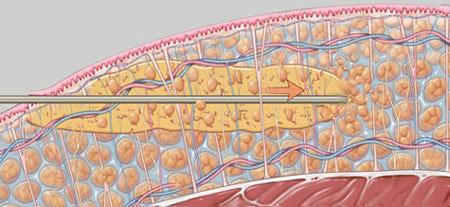 3. Emulsified fat is easily removed via specially designed VentX Suction Cannulae or massage, left muscle and nerve tissue unimpaired.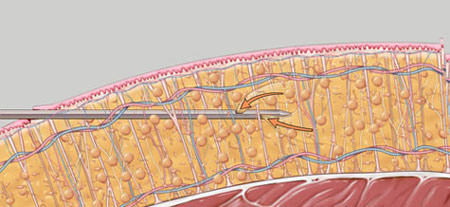 4. During the healing process, your skin will retract to give you a smooth, natural-looking result.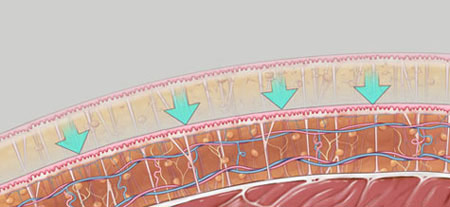 What happens during a VASER® Lipo procedure?
First, the area for a VASER Lipo procedure to be reshaped is filled with a special saline solution that helps numb the site and shrink the blood vessels (to minimize blood loss and reduce bruising). Next, a small probe transmits ultrasonic energy to break apart fatty tissue on contact while preserving other important tissue. Finally, the liquefied fat is removed through a gentle suction process designed to minimize damage to surrounding tissues. To read more about traditional Liposuction, click here.
Is Vaser Liposuction painful?
Usually, we ask our patients to evaluate their level of pain. All the patients replied that their level of pain was between 0 and 1 on a scale from 0 to 10.
What is the advantage of local anesthesia?
The great advantage is that we can talk to patient all the time, check how he or she is feeling, discuss if some areas should be addressed more. This is without mentioning that we laugh, tell stories and jokes. Some of our patients even talked on the phone!
How much fat can be taken?
There are limits to how much fatty tissue can be safely taken from the body at one liposuction procedure. One way to get a good idea for yourself is to stand and bend from the waist. The amount of 'loose-hanging' fat you can easily grab above / below your waist will approximate what can be removed by VASER Lipo. Bear in mind that this procedure is not intended as a weight loss solution. The goal is to create a slimmer silhouette.
How soon will I see my results? What is the recovery time?
This varies with the extensiveness of the liposuction procedure — the amount of fat removed, the number of sites treated, and so on. Many patients report that they see results immediately after the procedure with the final result at around 3 to 6 months.
What about future weight gain / fat migrating to other areas?
This is a common misperception. Following your VASER Lipo procedure, should you experience weight gain or loss, it will tend to be proportionately distributed over your entire body. Once you have fat removed, it is gone and, assuming a healthy lifestyle of proper diet and exercise, it will not return or migrate. However, because fat is necessary to a healthy body, some essential fat layers in any given site remain untreated. If you do gain a significant amount of weight, the remaining fatty tissue will expand. Normal aging changes can also be expected.
Please read additional information on returning to work, financial plans and consultations here.
If you'd like to view more before and after pictures, please visit our Vaser Lipo Library. Please also check out testimonials from our happy clients.