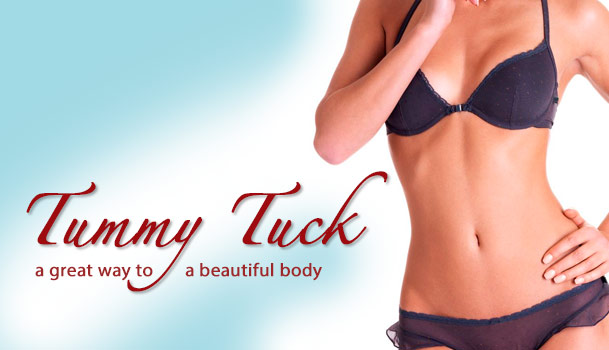 California Experts in Abdominoplasty in Ventura
We offer Complete and Mini Tummy Tucks
Are you tired of your tummy being loose, and sagging, or protruding? Has your stomach not responded well to weight loss from exercise? Thinking about Abdominoplasty, more commonly know as a tummy tuck?
La Nouvelle Center for Aesthetic Surgery, Liposuction and Vaginal Rejuvenation specializes in Mini Tummy Tuck procedures as well as in full Tummy Tucks. Mini Abdominoplasty is most popular procedure in our office. This is a procedure that immediately follows the liposuction to tighten the excess of skin after fat removal. The procedure is performed on a lower section of abdomen and is done under a local anesthesia. This is when Dr. Hanna cuts out the loose skin so that your belly looks flatter after the surgery and you wouldn't have loose skin hanging.

Abdominoplasty - Before and After Images
Before & After*

Below are the enlarged photos



Testimonial of Tummy Tuck By Dr. Hanna in Spanish
Please take a look at the Liposuction + Abdominoplasty that followed right after. The After photos are taken about 2 weeks after the surgery. After 2 months the scars get much less noticeable. We also have a special technology in our office (combination of treatments) to make the scars disappear.
Abdominoplasty - Before and After Images
Before & After Images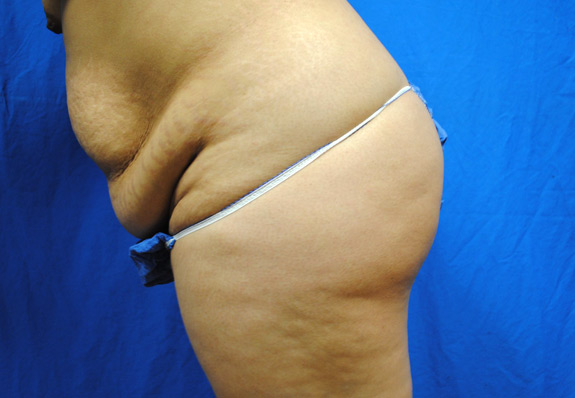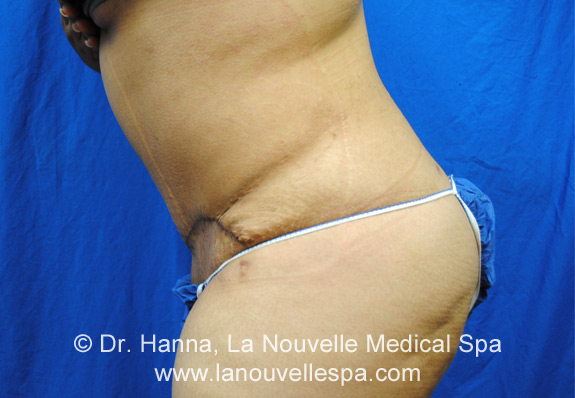 Before & After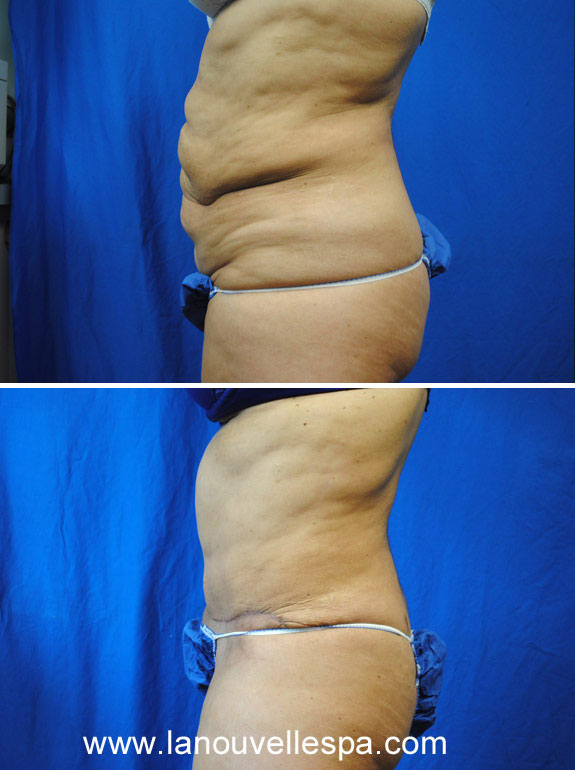 If you are thinking about having a Tummy Tuck procedure, then we suggest that you have one done by a board-certified plastic surgeon with plenty of experience. Dr. Hanna is a specialist that has focused throughout his career on aesthetic surgery and is the best in his field. His goal has always been to give the best care to all of his patients so that they will have nothing but the best outcome and final results possible.
Dr. Hanna has always been been well known and respected throughout the aesthetic field and among his peers for his dedication to excellence as well as staying on top of the latest advancements in aesthetic procedures. Feel free to contact Dr. Hanna and his staff for a FREE consultation.
Tummy Tuck (Abdominoplasty) in more details..
A tummy tuck is a surgical procedure that is performed when aging, pregnancies, weight fluctuations, heredity, and other surgeries have caused problems in the abdomen that are not or haven't been that easy to remove or reduce. A mini tummy tuck procedure removes excess skin so that you can restore weak and separated muscles in the stomach area. If you are a woman wanting to get pregnant in the near future, than we would suggest that you wait until after you have had your children before you have an Abdominoplasty procedure. Also keep in mind and know that a tummy tuck or abdominoplasty is not a substitute for a weight loss exercise program.
Even though you are in good health, you may still be a good candidate for a tummy tuck. If your skin is hanging over your belt line and your tummy is protruding, not to mention, you have pockets of loose skin and fat, all the while maintaining a stable weight with good health, than you are indeed a candidate for a liposuction and a tummy tuck. After a pregnancy, some women will end up with stretch marks and have stretched abdominal muscles that can easily be taken care of with a tummy tuck procedure.
Tummy Tuck Surgery
Tummy Tucks, better known in the medical field as abdominoplasty, is when a specialist tightens up weakened abdominal wall muscles by removing the loose hanging abdominal skin. Over 80,000 men and women in America every year go through a tummy tuck procedure because regular diet and exercise don't help them like they would like, and they go around with a protruding belly that has loose hanging abdominal skin and muscles that does not look good causing them to be self conscious.
Mini-Abdominoplasty, or mini-tummy tuck, is performed only on patients that have a small amount of lower abdomen issues of loose skin and stretch marks and does not have to have their abdominal muscles tightened. At times this procedure might be done in tandem with liposuction on a patient when the patient has excessive fat but minimal or limited looseness of the abdomen.
Women should not consider additional pregnancies after tummy tuck procedures because they may have to have a second procedure to re-tighten the belly.
Along the lower pubic area, Dr. Hanna will make an incision that will go from the left hip to the right hip in an area that can be hidden underneath a bathing suit or underwear when healed so that the scar will not be seen. The loose skin from the abdominal wall will then be lifted and the muscles that give the abdomen its strength are repaired and tightened and provides an old-fashioned girdle effect.
Mini-Abdominoplasty has smaller incisions spanning only the width of the pubic area. In order to help contouring, liposuction sometimes is used on patients whose hips and flanks do have large amounts of fat in both of your abdominoplasty procedures, standard and mini-tummy tucks. Furthermore, stretched abdominal areas do not get liposuctioned because this will prevent or damage blood circulation causing scarring or skin necrosis. Tummy Tucks give you an abdominal result that is tight as well as flat with a waist that is curvy and narrow with thighs and a butt that is firmer.
Tummy Tuck Testimonial in Spanish
Please check out a page with Frequently Asked Questions (Liposuction FAQ) as well as about Financing here.
Please visit our Tummy Tuck before and after photos and check out some of the testimonials from happy clients. For now, book a consultation with Dr. Hanna and find out why he is the expert source for physicians and patients.