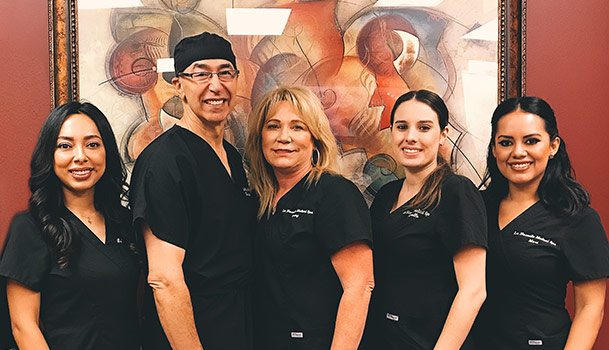 Our Wonderful Staff of
La Nouvelle Medical Spa
Our staff includes Dr. Hanna and a wonderful team of well trained specialists. Here, at La Nouvelle Center for Aesthetic Surgery, Liposuction and Vaginal Rejuvenation, we believe that our clients deserve the safest, fastest and most effective treatments available. That's why we are always investing in new technologies, and why our team is constantly evaluating new procedures to ensure the best results and best value for our clients. We are thriving to create a relaxing and friendly atmosphere in our office so you always feel comfortable and welcomed.
By combining the latest technology, experienced professional staff, in a relaxing, inviting environment we assure your experience in our La Nouvelle Medical Spa will go above and beyond your expectations. We make sure that you always feel comfortable and welcomed. Our friendly staff will be happy to answer your questions and address your concerns. We will be happy to see you in our office in Oxnard, Ventura County, between Santa Barbara and Malibu, just an hour north of Los Angeles.
What differs us from other similar offices?
Our very personal attention to our patients
We have one of the highest success rates of our procedures
Dr. Hanna's extensive experience in Cosmetic Medical Procedures, Liposuction and Vaginal Rejuvenation procedures
We never make you wait in long lines
We have an international team, we speak English, Spanish, Arabic, and French!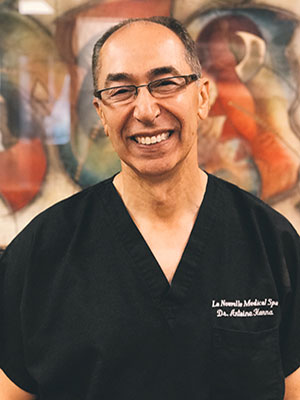 Dr. Antoine Hanna
Medical Director
Cosmetic Surgeon
Dr. Hanna is the heart and soul of La Nouvelle. With decades of medical experience under his belt, and more medical board and association memberships than we can count, his vast expertise is complemented by his warm sense of humor. Dr. Hanna is constantly collaborating with other doctors to expand La Nouvelle's services, and attends conferences to learn the latest and greatest in medical advancements. Whether you're just in for a consult or undergoing a procedure, Dr. Hanna strives to make sure you're well taken care of.
For Dr. Hanna's CV and certifications, click here.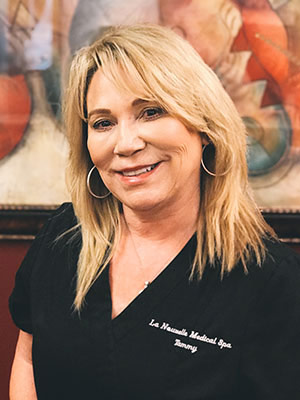 Tammy Chacon
Spa Manager
Certified Aesthetic Consultant
There would be no La Nouvelle without the hard work of our Spa Manager, Tammy. As a certified Aesthetic Consultant, Tammy knows all of our treatments, surgeries, and products better than anybody else. From the beginning in 2004, she has grown this business into the warm, welcoming, professional spa it is today. Tammy does much of the behind-the-scenes work that makes our spa tick, and coordinates between all of our partners and suppliers to get top-shelf offerings at our office. In short, Tammy goes above and beyond to make sure our patients are getting the best experience possible.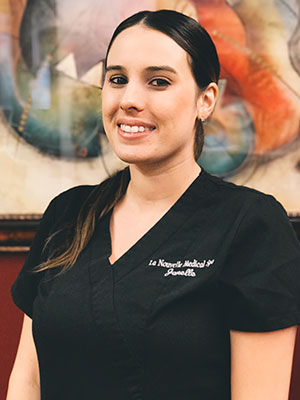 Janelle Socia
Cosmetic Consultant
Janelle is our Medical Assistant and Dr. Hanna's right hand (wo)man! She is on the front lines of consultations and surgeries, especially Abdominoplasty and Breast Augmentation. Janelle will give you the low-down on any procedure, and guide you through your initial consultation all the way to your 6-month follow-up. She's been going 6 years strong with our spa, and is looking forward to the arrival of her new baby boy! If you're curious about a surgery, Janelle will be your go-to woman.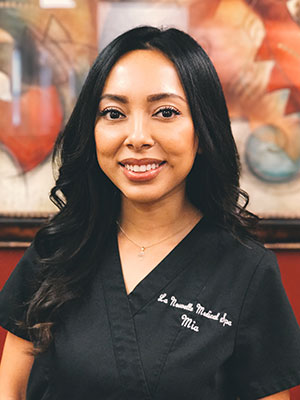 Mia Hernandez
Cosmetic Consultant
This is Mia, the captain of the front desk and director of first impressions. Mia is the one who will be scheduling your appointment and telling you the inside scoop on whatever treatment you're curious about. She has been with us at La Nouvelle for 3 and a half years, speaks both English and Spanish (and a little Arabic), and we can't imagine a spa without her! Mia always looks forward to Instagramming with Dr. Hanna, and her favorite day of the week is Wednesday (#HumpDay). If you've been a patient of Dr. Hanna's, you've probably already met the Majestic Mia!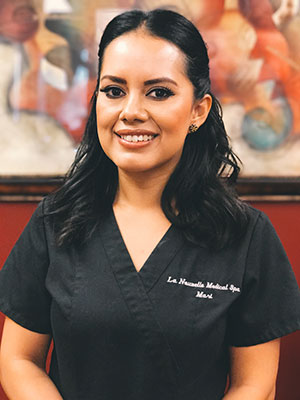 Mari Oseguera
Aesthetician
"Hey guys, it's Mari!" If you're a fan of our Snapchat, you DEFINITELY already know Mari! An Aesthetician with years of experience under her belt, Mari is your guru for everything peel or micro-related facials, and knows our entire skincare product line like the back of her hand. Mari is fantastic at customizing recommendations based on her patient's needs and goals, and has an always-present smile on her face! She is coming up on her one-year work anniversary with us, and we couldn't be happier to have her in our roster. Make sure you follow our social media channels for #MariMondays and #DailyTipsAndTricks!
We love our work. But also we love to have fun! We would love you to join us! Have some fun too!