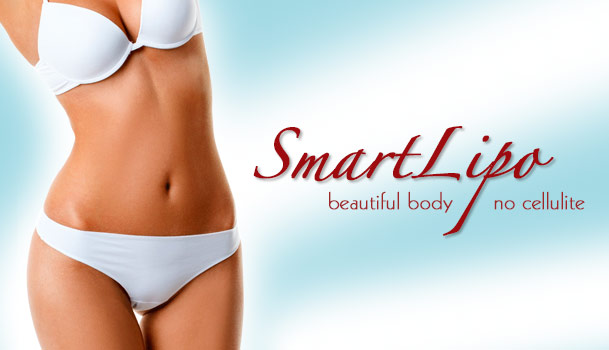 California Experts in Smartlipo (Smart Lipo)!
Leading Medical Office in Ventura County
SmartLipo is an innovative procedure for removing excess body fat and firming loose skin. It is a relatively easy procedure compare to tradutional liposuction technique. Approved by the FDA in the fall of 2006, SmartLipo has proven to be one of the safest cosmetic procedures.
This procedure requires a local atheistic rather than a general one that requires you to stay in the hospital. It is done right in our office and takes just a couple of hours. Our patients are back on their feet within a day or two. Many may go back to work the next day.

Smartlipo & Vaser Lipo of the hip area. This patient also had a liposuction and abdominoplasty on the abdomen area.
Before & After*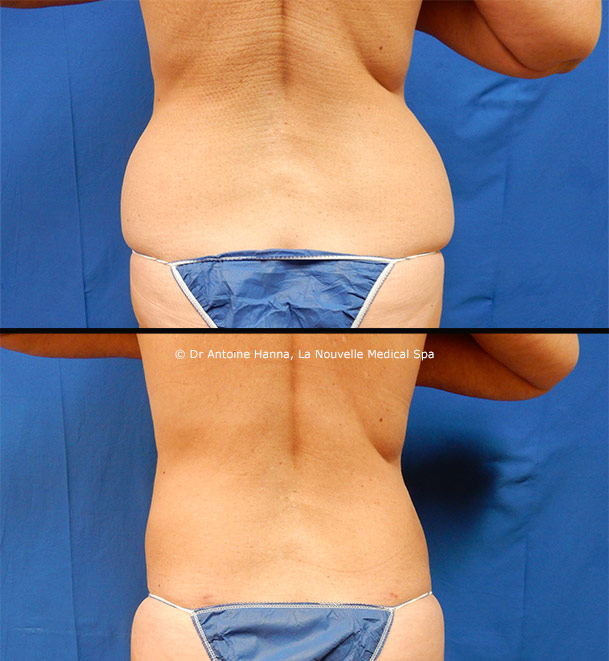 SmartLipo Benefits:
Promotes tissue tightening through tissue coagulation
Performed under local anesthesia (tumescent liposuction)
Less bleeding and trauma
Quick recovery
Small incisions
Direct visualization of treatment area
Dramatic results!
Can be combined with Vaser Liposuction, PAL
Is Smartlipo painful?
Usually, we ask our patients to evaluate their level of pain. All the patients replied that their level of pain was between 0 and 1 on a scale from 0 to 10.
SmartLipo and Vaser Lipo (Liposuction)
The combination of the Smartlipo technology and Vaser Lipo technology developed by Dr. Hanna and La Nouvelle Center have provided exceptional results. It works without comparison. Dr Hanna worked closely with Dr. Kerr from Idaho on finding the best combinations of the treatments. And now we get much better results than with just Smart Lipo alone. The Smartlipo device did a good job of tightening the skin, but the combination of the two sets a new standard.
Smartlipo & Cellulite
Recent advances in the world of technology have made it easier for those who want to reduce ugly cellulite on their body. No longer do you have to wait for weeks to heal from medical procedures to remove unwanted fat cells from your body. Thanks to the procedure known as SmartLipo (Smart Lipo) or Laser Liposuction as it is more commonly known.
The procedure itself
SmartLipo involves the use of special lasers that emit special heat that does not contain heat as we know it. It is similar to radiation that closes wounds as well as important blood vessels without the use of sutures. The blood vessels are closed as the procedure is taking place. This laser method reduces the fat by melting or liquefying the fat that is quickly suctioned up during the same procedure. Rather than dig deep into the patients skin, this is done only through the top layer of skin. Hence, this is the reason behind the fast recovery time.
This type of procedure contains less risk to patients as there in no need for undergoing regular surgery that requires a hospital stay. There is less recovery time needed in this type of procedure as well, therefore, it is the choice of many of those who want their cellulite removed.
We strongly suggest general examination or consultation before being considered for this procedure. Please do come to our office at La Nouvelle Medical Center for a FREE CONSULTATION and Dr. Hanna will access your overall health and decide if you are a good candidate for this or not. If Dr. Hanna deems you to be fit, then he will discuss the various techniques as well as the costs.
This is not a procedure for those who are severely obese as the results are not instant but are over a period of time. Certain hormones are reactivated when this procedure is done. Hormones that normally would have aided in breaking up these fat cells are strengthened and renewed. This means that they will work harder when the procedure is complete.
Smartlipo is making waves all over Europe, Asia, South America and now in California and Arizona. Approved by the FDA in the fall of 2006, Smartlipo has proven to be one of the safest cosmetic procedures. Complications are extremely rare.
It is important that you change your diet and exercise plans as well after this has been completed. Regular exercise and proper diet will help you to lose weight as well as help your metabolism. It will also reduce the chance of the harmful fat cells from depositing in your system.
If you cannot afford to pay the whole fee outright, our team will work on a budget plan with you. We will discuss a monthly payment plan that is designed to your means and budget. This is because this procedure is not covered by medical insurance.