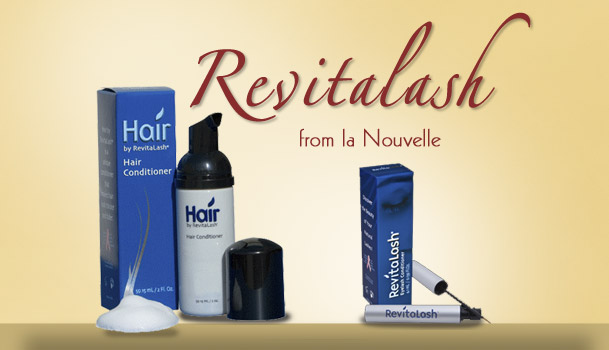 Revitalash Products at La Nouvelle
Revitalash Eyelash products - help you achieve significantly Longer, Thicker, and Fuller eyelashes
La Nouvelle Revitalash

Hair by Revitalash


This unique hair conditioner fortifies and strengthens the hair so it appears thicker, fuller and healthier. This remarkable cosmetic breakthrough can enhance the appearance of fine, thin and fragile looking hair in a matter of weeks. Packed with conditioning agents like Ginko Biloba, Ginseng Root, Japonica, fruit extracts and wheat proteins, Hair by Revitalash is revitalizing and easy to use. One or two pumps massaged into areas where you want the hair to appear thicker and fuller is all that is necessary.

Mascara by Revitalash


Maximize your lashes even more. With our high performance, clump-free formula your lashes will look thicker, fuller and more luscious than ever. And our custom designed brush will separate and define for an eye-popping finish. Used together with Revitalash, the results are even more stunning. Mascara by Revitalash frames your eyes so your true beauty shines through.

Revitalash Eyelash Conditioner


Revitalash is a unique eyelash conditioner that will help you achieve the natural beauty of Longer, Thicker, Fuller looking eyelashes. A very small amount of Revitalash is applied once a day. No matter how brittle, short, fragile, thin or sparse your eyelashes are, Revitalash can help you achieve your very own long, beautiful, healthy looking lashes.
Give us a call so you could get wonderful La Nouvelle Products! (805) 988-2638