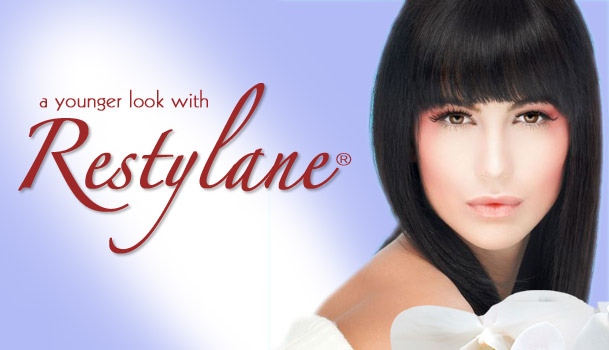 #1 in Restylane Wrinkle Filler, Ventura
As we age, our skin changes. Over time, the natural volume of youthful skin begins to diminish as wrinkles and folds form. With Restylane injectable gel, Dr. Hanna paves the way to plump, smooth, bursting-with-youth skin. This FDA approved, wrinkle-filling injectable filler provides a long lasting lift. Restylane, a winner of Allure's Best of Beauty Breakthrough Award, pumps up mild to moderate lines and folds. Get the dramatic results you crave immediately!
La Nouvelle Medical Spa is one of the leading centers specializing in injectable fillers - Restylane, Juvederm and Radiesse. Dr. Hanna has practiced cosmetic medicine for many years. He serves on the faculty of the American Academy of Aesthetic Medicine.

Restylane Wrinkle - Before and After Images
Restylane is the most well known dermal fillers in the United States, known for its safety, efficacy and long-standing results. By replenishing the level of Hyaluronic acid in the skin, fillers can immediately soften lines and wrinkles seen with aging (such as the nasolabial folds) and enhance natural features such as the lips or cheeks.
The procedure and the results
Restylane is injected with a very fine needle during a comfortable procedure that requires no downtime. Because Restylane does not contain any animal-derived ingredients, no skin test is required. Results are immediate and one should expect to leave the office with natural appearing, softer facial contours and a revitalized appearance.
Where does it work?
Restylane is most successfully used in the area of deep wrinkles or lines around the mouth, it acts as a physical support system for your skin. The expected result is smoother skin with added support and padding to the face which gives you a more youthful appearance. Besides using Restylane for nasolabial folds, we've been successfully using Restylane to make lips fuller, for lips enhancement. It helps to create wonderful plump lips.
What areas can be treated?
Restylane treatments can be used to smooth out facial lines, create fuller lips and shape facial contours, such as cheeks and chin. It is a subtle approach to enhancing looks naturally. The most common uses of Restylane are:
• Wrinkle correction
• Diminishing worry lines, smile lines, crow's feet,
marionette lines at corners of the mouth, and smoker's lines
• Lip enhancement
• Reducing the severity of nasolabial folds
• Chin augmentation
• Filling cheek depressions
• Redefining lip border
• Softening acne scars
• Filling hollows under the eyes
• Creating a temporary eyebrow lift
• Correcting facial depressions caused by fat loss
• Softening the appearance of jowls
in more details...
Hyaluronic acid is a naturally occurring substance in your skin. Its job is to help provide fullness and elasticity. Over time, skin loses hyaluronic acid. And as it diminishes, skin loses volume, increasing the chances for wrinkles and folds to appear.
You have the power to influence your appearance
Restylane provides rejuvenating cosmetic beauty treatments for a natural, younger-looking you. Restylane is the world's best-selling dermal filler. It is well tolerated, nonsurgical and long lasting (usually around six months).
How skin ages
There's no stopping it: Your skin is going to change with age. But the good news is, there's something you can do about it.
Here are the facts.


1 - Young skin is smooth and full.
2 - Restylane is injected into the skin to restore volume to correct moderate to severe facial wrinkles and folds, such as the lines from your nose to the corners of your mouth (nasolabial folds).
3 - Restylane gives natural-looking results by restoring your skin's fullness. With years of experience, Restylane is the world's best-selling dermal filler.

Where can Restylane be used?

Restylane is a FDA–approved for the treatment of moderate to severe facial wrinkles and folds, such as the lines from your nose to the corners of your mouth (nasolabial folds).
How does it work?
The idea is simple—Restylane is a cosmetic dermal filler that adds volume within the skin. It consists of hyaluronic acid. In the human body, natural hyaluronic acid provides volume and fullness to skin. After treatment with Restylane, the hydrophilic, or "water loving," nature of the hyaluronic acid molecules allows them to bind many times their own weight in water as they slowly break down. This process helps maintain volume for about six months.
Is it safe?
It is the world's most studied cosmetic dermal filler with more than a decade of use. Restylane have well-defined safety profiles and is approved for the treatment of moderate to severe facial wrinkles and folds, such as the lines from your nose to the corners of your mouth (nasolabial folds). Restylane has been used in over 1.4 million treatments in the U.S. and is available in more than 70 countries, with dozens of studies published in medical literature. Restylane contains no animal proteins. This may limit the risk of animal-based disease transmission or allergic reactions. This product contains trace amounts of gram positive bacterial proteins and is contraindicated for patients with a history of allergies to such material.
How long does it take to see the results and how long does the Restylane treatment effect last?
The beneficial effects of Restylane are noticed immediately and actually improve over the first weeks as the product absorbs water. One of the great advantages of RESTYLANE is that the effects are long lasting but not permanent. You are always in control of your looks. Lip enhancement: follow-up treatment is normally needed in about 6 months. Duration depends on many factors, such as skin type, lifestyle, age, the degree of perfection demanded by the patient and the injection technique of the practitioner. Facial lines and facial shaping follow-up treatments are usually needed after 6-9 months whereas lip enhancement results last about 6 months.
Part of what determines the longevity is whether enough volume is used initially to correct the volume defect. Ideal results may require more than one syringe of Restylane.
Do Restylane treatments hurt?
Restylane injections are well tolerated. For patients that desire it, a topical anesthetic can be used. For areas like the lips, local anesthetic injections like at the dentist, are used to numb the treatment area.
Is there any downtime with Restylane?
You may notice slight swelling, redness or bruising following Restylane injections, not unlike any other injection. When they occur, these effects are temporary and don't generally interfere with any activities. With lip enhancement, the swelling may last a few days so chosen a good time for this treatment is advised. Longer periods of inflammation and swelling are quite rare. It is advisable to avoid sunbathing, exercise, alcohol and cold outdoor activities for six hours after treatment.
Before and After Images
Before & After*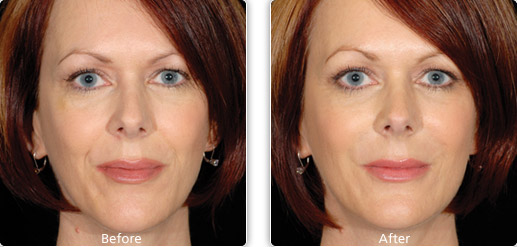 Before & After*
*There's no guarantee of specific results. Results may vary from person to person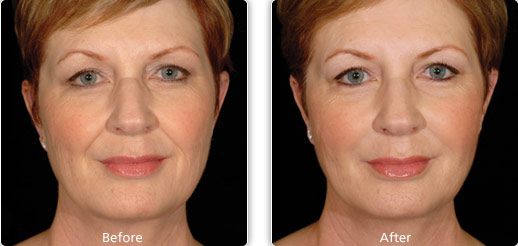 If you'd like to view more before and after pictures, please visit our Restylane Wrinkle Filler Library as well as check out testimonials from our happy clients.