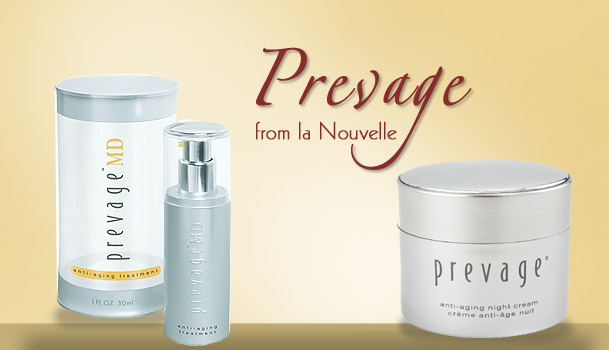 Prevage MD anti-aging products at La Nouvelle
This revolutionary new skincare technology proven to alter the chain reaction that can result in visible signs of aging. The ingredient Idebenone in the exclusive Prevage formula is proven as the most powerful antioxidant for correcting and preventing degenerative cellular damage caused by environmental assaults. Clinical tests show a significant decrease in fine lines and wrinkles, and an overall improvement in the skin's firmness, tone, texture, and radiance.
La Nouvelle Prevage

Prevage MD 1% Idebenone - 1oz


Idebenone, found in PREVAGE MD [1% Idebenone], is scientifically shown to be the most powerful antioxidant available in a skin care product today.¹ PREVAGE MD helps correct the skin damage that is already present and protects skin from future damage by environmental stressors known to cause skin aging including UV radiation, ozone, air pollution, cigarette smoke, and the aging process itself. The antioxidative power of PREVAGE MD anti-aging treatment has been shown to reduce the appearance of fine lines and wrinkles, as well as skin roughness and dryness, and to even skin tone to restore youthful-looking skin
Give us a call so you could get wonderful La Nouvelle Products! (805) 988-2638
We can ship all our products!