California Experts in Liposuction! #1 in Ventura
What is Liposuction? Liposuction surgery is one of the most popular cosmetic procedures; it's also one of the most requested around the world. Liposuction is used to help men and women eliminate unwanted fat from the stomach, hips, thighs, knees, buttocks, love handles, neck and face to achieve a more ideal body contour.

Liposuction Female Back - Before and After Images
Before & After
Below are the enlarged photos



La Nouvelle offers several Body Sculpting / Contouring Procedures. These procedures, SmartLipo, Vaser Lipo, and PAL Liposuction use the best available technology, and offer significant improvements over traditional body sculpturing such as "traditional" liposuction. Depending on individual condition and desired results, we can often combine these procedures to create a custom program of treatment to maximize patient benefit.
La Nouvelle Medical Center is one of the leading centers in California in various Liposuction techniques!
We do all our Liposuction procedures under local anesthesia (tumescent liposuction). Read about Tumescent Liposuction here.
Difference between "traditional" Liposuction and Vaser Lipo or PAL Liposuction
"Traditional" Liposuction is simply taking the fat out by suction it from under the skin. Other types of liposuction use additional technologies to "dissolve" or "melt" fat before the actual liposuction. It helps better shaping / body contouring and has other advantages.
Vaser Lipo (Liposuction) uses state-of-the-art ultrasound technology designed to gently reshape your body. It breaks up fat while preserving important tissues to promote smooth results and rapid healing.
Please read more about Vaser Lipo (Liposuction) here
PAL Liposuction uses technology based on electricity to "dissolve" or "melt" fat before liposuction. It also preserves fat better. This can be very important if you'd like to reuse this fat for some other place - like for Breast Enhancement (transferring your own fat to your breast) or other parts of your body for better contouring.
Please read more about PAL Liposuction here
We do all our liposuctions under local anesthesia, numbing only the areas when the fat is going to be removed. You are awake at all times (unless you want to fall asleep on your own). In the video below: Dr. Hanna used a probe that is inserted into small incisions on the patient's belly. The patient comments on what she feels (she actually doesn't feel much:). Patient's level of pain -1 on a scale from 0 to 10, minimum discomfort. 2nd step - Vaser Liposuction - ultra sound liposuction technology for melting fat.
For more videos that show you in the very detail what's happening to you at the day of liposuction, step by step, please visit Liposuction Videos page.
SmartLipo and Vaser Lipo (Liposuction)
The combination of the Smartlipo technology and Vaser Lipo technology developed by Dr. Hanna and La Nouvelle Center have provided exceptional results. It works without comparison. Dr Hanna worked closely with Dr. Kerr from Idaho on finding the best combinations of the treatments. And now we get much better results than with just Smart Lipo alone. The Smartlipo device did a good job of tightening the skin, but the combination of the two sets a new standard.
Liposuction, SmartLipo, Vaser Lipo, PAL Liposuction
are gentle procedures that can be done in justa few hours. There is minimal pain, a quick recovery time and visible results almost immediately. Approved by the FDA in the fall of 2006, Smartlipo has proven to be one of the safest cosmetic procedures. Complications are extremely rare.
Is Liposuction painful?
Usually, we ask our patients to evaluate their level of pain. All the patients replied that their level of pain was between 0 and 1 on a scale from 0 to 10.
What is the advantage of local anesthesia?
The great advantage is that we can talk to patient all the time, check how he or she is feeling, discuss if some areas should be addressed more. This is without mentioning that we laugh, tell stories and jokes. Some of our patients even talked on the phone!
Please check out a page with Frequently Asked Questions (Liposuction FAQ) as well as about Financing here.
Before and After Images
Liposuction Female Side View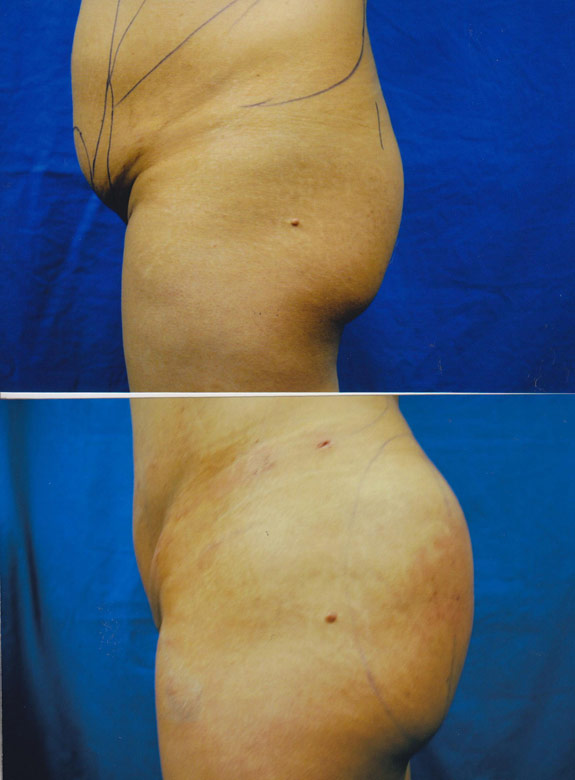 Please visit our Liposuction Library of before and after photos and check out some of the testimonials from happy clients. For now, book a consultation with Dr. Hanna and find out why he is the expert source for physicians and patients.