Liposuction in Oxnard, Ventura County!
Liposuction surgery is one of the most popular cosmetic procedures; it's also one of the most requested around the world. Liposuction is used to help men and women diminish unwanted fat from the stomach, hips, thighs, knees, buttocks, love handles, neck and face to achieve a more ideal body contour.
Dr. Antoine Hanna, Board-Certified Cosmetic Surgeon, has been in business for over 25 years. He offers several Liposuction procedures. These procedures, SmartLipo, Vaser Lipo, and PAL Liposuction use the best available technology and are done in our office under a local anesthesia. Depending on individual condition and desired results, we can often combine these procedures to create a custom program of treatment to maximize patient benefit.

Liposuction Female Back - Before and After Images
Before & After*

Below are the enlarged photos



See what our patients say about the procedures by Dr. Hanna*
"From the first time I went to visit Dr. Hanna for a consultation to the very end of my procedures, I felt very comfortable and at ease. Dr. Hanna and his staff are more than wonderful. The treatment was awesome. Dr. Hanna has given me a whole new perception on life. Six months ago, I underwent lipo-sculpting on most of my body. What a miracle it has been. I now feel very confident and satisfied with the procedure and am so happy. Dr. Hanna took good care of me. I was so delighted with the results and I have gotten so many compliments with how natural my body looks!! I have decided to go back a 2nd time for a second procedure, I guess it is true that once you start plastic surgery you keep waning more. I am now in consultation with Dr. Hanna about getting a Brazilian Butt Lift. I will let you know how the second procedure turns out. I can't wait to go back again! I am so much more confident now and excited for the new ME! Thank you Dr. Hanna! "
Eva Brewer
"If Dr. Hanna knows how wonderful I feel I think he would increase the CHARGES LMBO! It's so nice to look in the mirror every day and I see a more beautiful me. 8 months ago I had a Tummy tuck after years of feeling horrible about my middle section.....Ever since I was in my late teens I had a high stomach but after having twins in my early 20's my stomach just looked fat and I was super uncomfortable wearing certain clothes. I worked my ass off to save for this surgery and I have never regretted a second of it. The best part is....my inner beauty is beginning to sparkle more and more. Being more satisfied with my outer self has afforded me more time to concentrate on my inner self. And that makes life magnificent.."
Alana Morales
"Great facility, amazing and very knowledgeable, friendly & most importantly Professional Staff. For my 45 birthday I finally decided to do a smartlipo and I couldn't be happier with the results! To be quite honest, I was nervous at first. Until, my girlfriend shared her wonderful experiences at La Nouvelle Center for Aesthetic Surgery with me. My results exceeded all of my expectations! I highly recommend La Nouvelle Center for Aesthetic Surgery to anyone who is considering smartlipo procedure. "
Alexa R.
"Throughout the complete liposuction procedure I felt at ease in Dr. Hanna. He explained the benefits and risks of the procedure to me which helped relieve my fears and worries. He never pushed me to make a decision to have liposuction. Dr. Hanna and staff took great care of me - making sure I am comfortable and relaxed. They always treat me with respect - very professional and considerate! "
Thomas Berg
La Nouvelle Medical Spa is one of the leading centers in California providing various Liposuction procedures!
We do all our Liposuction procedures under local anesthesia (tumescent liposuction). Read about Tumescent Liposuction here.
Difference between "traditional" Liposuction and Vaser Lipo or PAL Liposuction
"Traditional" Liposuction is the procedure of simply taking the fat out by suction it from under the skin. Other types of liposuction use additional technologies to "dissolve" or "melt" fat before the actual liposuction. It helps better shaping / body contouring and has other advantages.
Vaser Lipo (Liposuction) uses state-of-the-art ultrasound technology designed to gently reshape your body. It breaks up fat while preserving important tissues to promote smooth results and rapid healing. During Vaser Lipo, the fat turns into a more liquid state that helps remove it easier and allows better contouring of the body.
Please read more about Vaser Lipo (Liposuction) here
PAL Liposuction uses technology based on electricity to "dissolve" or "melt" fat before liposuction. It also preserves fat better. This can be very important if you'd like to reuse this fat for some other place - like for Breast Enhancement (transferring your own fat to your breast) or other parts of your body for better contouring. It also is used to harvest the fat after melting it down with Vaser Liposuction.
Please read more about PAL Liposuction here
We do all our liposuctions under a local anesthesia, numbing only the areas where the fat is going to be removed. You are awake at all times (unless you want to fall asleep on your own). Please check the video below. You will notice that a patient is awake, she comments what she feels; her level of paint is 1 on a scale from 0 to 10.
For more videos that show you in the very detail what's happening to you at the day of liposuction, step by step, please visit Liposuction Videos page.
The combination of the Smartlipo technology and Vaser Lipo technology developed by Dr. Hanna and La Nouvelle Center have provided exceptional results. It works without comparison. Dr Hanna worked closely with Dr. Kerr from Idaho on finding the best combinations of the treatments. And now we get much better results than with just SmartLipo alone. The Smartlipo device did a good job of tightening the skin, but the combination of the two sets a new standard.
Liposuction, SmartLipo, Vaser Lipo, PAL Liposuction
are gentle procedures that can be done in just a few hours. There is minimal pain, a quick recovery time and visible results almost immediately. Approved by the FDA in the fall of 2006, Smartlipo has proven to be one of the safest cosmetic procedures. Complications are extremely rare.
Is Liposuction painful?
Usually, we ask our patients to evaluate their level of pain. All the patients replied that their level of pain was between 0 and 1 on a scale from 0 to 10.
What is the advantage of local anesthesia?
One of the advantages of the local anesthesia is that we combine the anesthesia itself adding a medication that prevents bleeding, that can't be achieved under a general anesthesia. This means that a patient practically doesn't lose any blood during the surgery. The recovery from such procedure is much easier and overall effect on the body is better. Another great advantage is that we can talk to patient all the time, check how he or she is feeling, discuss if some areas should be addressed more. This is without mentioning that we laugh, tell stories and jokes. Some of our patients even talked on the phone!
Please check out a page with Frequently Asked Questions (Liposuction FAQ) as well as about Financing here.
Before and After Images*
Liposuction Female Side View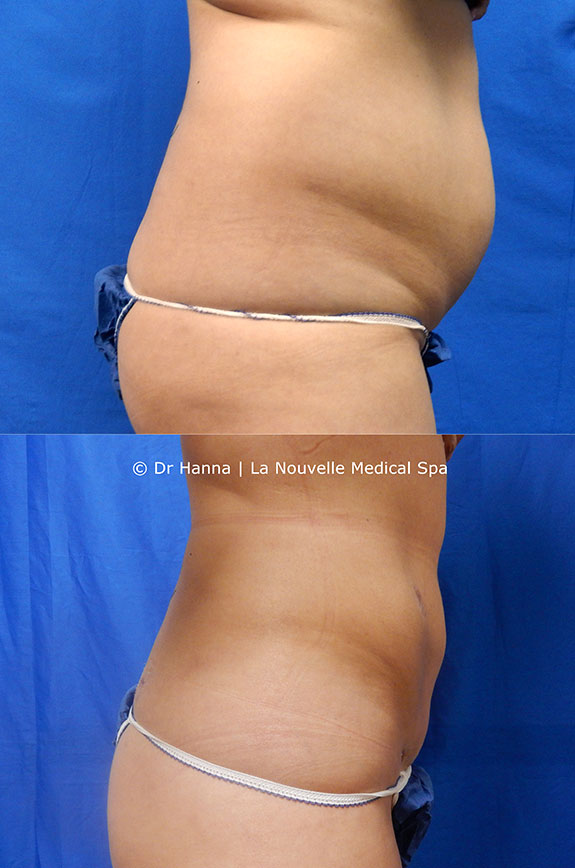 *There's no guarantee of specific results. Results may vary from person to person
Please visit our Liposuction Library of before and after photos and check out some of the testimonials from happy clients. For now, book a consultation with Dr. Hanna and find out why he is the expert source for physicians and patients.