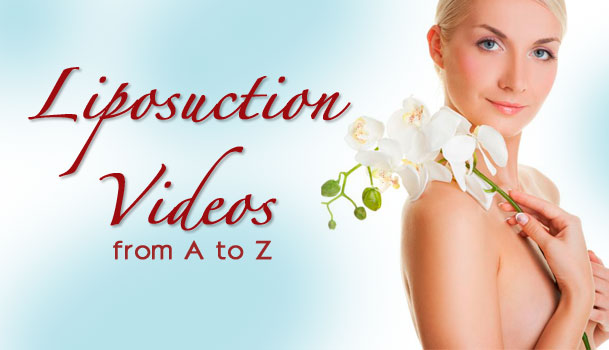 Liposuction from A to Z - Liposuction Day Videos
Many patients come to our consultations and want to know what to expect during the liposuction, what's happening on the day of liposuction. In order to help you to understand this process in the very detail, we shot a series of short videos so you could see the whole process yourself. We intentionally broke them into smaller videos related to various aspects of the liposuction procedure - this way you can watch over and over the parts that you are more interested in. Please take a look at the videos.
So, your day starts with checking in and signing of a content form, then we take you to the room where you can relax for a little while your calming medication is kicking in:) Then, Dr. Hanna checks the patient's weight, goes over the procedure and verifies what areas the patient would like to concentrate on. In our case it is abdomen, waist, & love handles - areas where would like to remove unwanted fat.
Then, Dr. Hanna explains the main steps in liposuction procedure - 1. Anesthesia (done under local anesthesia), 2. SmartLipo or Vaser Liposuction for melting the fat and 3. PAL liposuction - for sucking out the melted fat.
Dr. Hanna draws on the patient's body areas that are going to be used for liposuction (fat removal). He is going to work on the abdomen, waist, love handles. Dr. Hanna talks about bodysculpting.
Next step is anesthesia. We do all our liposuctions under local anesthesia, numbing only the areas when the fat is going to be removed. You are awake at all times (unless you want to fall asleep on your own). Next video: 1st step of Liposuction procedure - Anesthesia (procedure done under local anesthesia). Patient's level of pain -1 on a scale from 0 to 10, minimum discomfort. 2nd step - Vaser Liposuction - ultra sound liposuction technology for melting fat. Dr. Hanna used a probe that is inserted into small incisions on the patient's belly. The patient comments on what she feels (she actually doesn't feel much:).
3rd step of Liposuction procedure - PAL Liposuction (power assisted liposuction). This is when Dr. Hanna actually removes the melted fat. PAL helps the doctor to remove more fat and remove it easier, it's also better for the patient. This procedure helps to preserve the blood. Patient is almost not loosing the blood at all. See the pure fat that is being taking out. Dr. Hanna is sucking the fat out through a probe that is inserted into a small incision on the patient's belly. Patient comments on what she feels - "Can fall asleep if wanted".
Step 3. PAL Liposuction - power assisted liposuction for fat removal. Dr. Hanna continues the liposuction procedure. He is sucking the melted fat through a probe (canula) inserted through a small incision on the patient's belly. Dr. Hanna gives post-op instructions to the patient - not driving the day of the surgery, no harsh activities, calm evening, taking 2 Tylenols, wearing a special garment, taking the shower next day, calling the doctor next day and checking in in 2 days after the surgery. Doctor talks about draining... Patient talks about her feeling during the procedure, level of pain,...
Please check out a page with Frequently Asked Questions (Liposuction FAQ) as well as about Financing here.
Please visit our Liposuction Library of before and after photos and check out some of the testimonials from happy clients. For now, book a consultation with Dr. Hanna and find out why he is the expert source for physicians and patients.