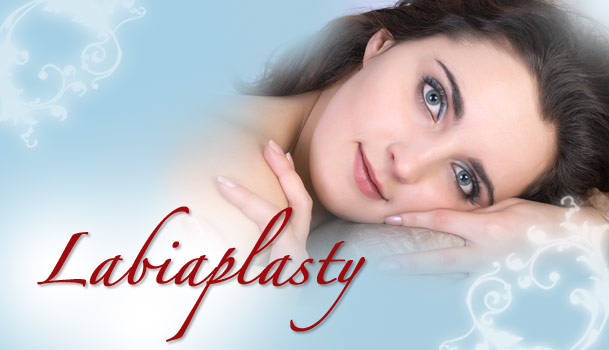 La Nouvelle Center for Medical Aesthetics, Breast Augmentation, Liposuction and Vaginal Rejuvenation is
#1 in Labiaplasty in Ventura County!
What is Labiaplasty?
Labiaplasty is a cosmetic genital surgical procedure that will reduce the size or change the shape of the small lips on the outside of the vagina (the labia minora).
Many women are born with large or irregular labia. Others develop this condition after childbirth or with aging. The appearance of the enlarged labia can cause embarrassment with a sexual partner or loss of self esteem. Some women just want to look "prettier" like the women they see in magazines or in the movies.
Chronic labial irritation can sometimes develop in women who wear tight clothing. Discomfort can occur with sex, sports or other physical activities.
Labiaplasty can greatly enhance the cosmetic appearance of the outer vagina giving many women greater confidence and self esteem. Women whose labia become irritated and painful will often find relief after surgery. Many years of experience in vaginal reconstructions surgery made Dr. Hanna one of the best surgeons in Labiaplasty.
Why would I want Labiaplasty Surgery?
Many women feel uncomfortable or irritated when wearing tight clothing, having sexual relations, or exercising. Other women just want to look "prettier". With the increased availability and acceptance of sexually explicit materials in our society, this is becoming more common. Often these women feel embarrassed or self conscious in front of their partners.
Cosmetic Reasons: Women who are unhappy or embarrassed with the way their labia look. Often this affects sexual relationships and self esteem. Some women just want to look as beautiful as they can for themselves and their partner.
Medical Reasons: Women who have discomfort from enlarged labia. This can come from exercise, sexual activity or from wearing tight clothes.
I don't have children. Can I still have a Labiaplasty?
Yes. Whether you have had children or not is not the issue. The issue is whether the enlarged labia cause physical discomfort or unhappiness because of their appearance.

Where is the Labiaplasty Surgery performed?
The surgery is performed in our outpatient surgical room located inside our office.

What is the average length of Labiaplasty Procedure?
The average length of Labiaplasty Procedure is between 1 and 2 hours. An additional hour is spent in our recovery room under the supervision of a Registered Nurse.

What type of anesthesia is used for Labiaplasty Surgery?
We perform this procedure under conscious sedation usually using a very short acting medication named Diprovan (propophol). You will be asleep during the procedure and will awaken within minutes after the surgery is completed. You will not be paralyzed or intubated during the surgery. We feel that our patients are more comfortable using this form of anesthesia.

What are the risks involved in Labiaplasty Surgery?
The most common risks of surgery may include bleeding, infection, and scarring, however these are very unusual.

What is the postoperative period like?
You will have discomfort at the surgical site for the first few days which will then decrease. All patients are sent home with prescriptions for pain medication and at times antibiotics. Full healing takes approximately six weeks. All sutures used are absorbable and therefore do not need to be removed.

How many post operative visits are required after Labiaplasty Surgery?
For our local patients we recommend post operative visits at two, four, six, and eight weeks to insure proper healing and excellent results. For our patients from out of town we recommend, if at all possible, a post operative visit at three to four weeks.

When can I return to work post Labiaplasty Surgery?
Most patients return to work in two to four days after Labiaplasty. Medical excuse letters for work are available upon request.

When can I resume exercise post Labiaplasty Surgery?
We recommend avoiding strenuous exercise for at least four weeks and possibly longer.

When can I resume sexual activity post Labiaplasty Surgery?
Sexual activity usually can be resumed in about four to six weeks after the Labiaplasty.

Will Labiaplasty Surgery result in decrease in sensation?
For the vast majority of women the clitoris is the structure associated with sensory pleasure, not the labia. As such you should not notice any loss of pleasurable sensation after surgery. Usually our patients feel better about themselves and this brings more pleasure during intercourse.

Will Labiaplasty alter the skin surrounding my clitoris?
Usually this area is not altered during the surgery. Some women do have excessive skin in this area and it can be trimmed to give a more pleasing and natural appearance at the time of surgery. This can be discussed at the time of consultation.

Will my sexual partner notice a difference after my Labiaplasty Surgery?
If the labia were interfering with intercourse, both of you will notice an improvement. Visually, your partner should notice that your labia are now smaller and better proportioned.

Do you offer a consultation prior?

We encourage you to have a consultation first to see, if you are a candidate for the procedure. Just call Dr. Hanna or his staff to schedule a consultation. If you have concerns that you would like to discuss first but you are not ready yet to discuss them over the phone or in person, please e-mail us. We will be happy to address your concerns and help you with decisions.

What is my next step, if I'm interested in Labiaplasty?

Dr. Hanna and his staff will be happy to discuss this with you in complete privacy and utmost confidentiality. To schedule a private consultation call Dr. Hanna office and talk to his friendly staff.

Can Labiaplasty and Vaginoplasty Procedures be done at the same time?
Yes. Both procedures can be done at the same time.

Does insurance cover the cost of Labiaplasty Surgery?
Insurance usually does not cover this surgery because it is considered cosmetic or elective.

Are Financing Plans Available?
Yes. We have arranged for financing with a large care credit company with option of no interest.

How much is the fee for the consultation?

The initial consultation fee is 150 dollars. If you decide to have the procedure, this fee is deducted from the total surgery fee.

If I live outside your area, can I still schedule a consultation?

Yes, some of our patients come from outside the area and we can always cater to accommodate them.

Are there hotels near your office?
Yes. There are numerous hotels in the area. When you call to schedule your consultation we will be happy to provide you with information.
Labiaplasty Before and After Images
If you'd like to see our gallery of Labiaplasty Before and After photos, please visit the website of our La Nouvelle Vaginal Rejuvenation center www.vaginalrejuv.com
Also, you can read there testimonials from our happy clients and see why Dr. Hanna is the expert in Labiaplasty. Please also check out more of the specials.