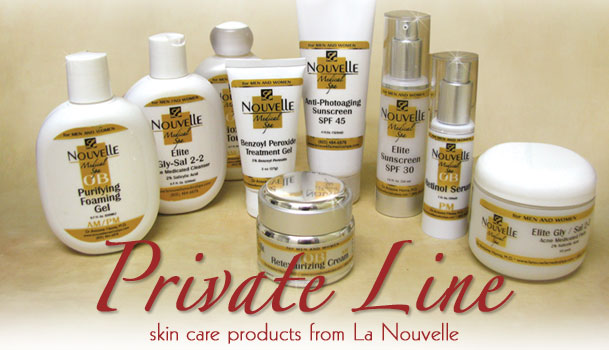 La Nouvelle Cosmetics
You deserve to look your best. At La Nouvelle Medical Spa we help you do just that. Our own skin care line has been specially chosen to help you receive the maximum results, with a routine that will fit easily into your life-style. Only the highest quality skin care products have been chosen for our private skin care line. We are so confident that you won't find better products out there… we've put our La Nouvelle name on them!
La Nouvelle Cleaners and Toners

Antioxidant Cleansing Pads


A blend of antioxidants and citrus extract that gently cleanses and prepares the skin in an easy-to-use pad. Perfect for makeup removal.

Green Tea Fortified Exfoliation Scrub


This scrub is specially formulated to deliver a smoothing wave of heat as it gently removes dry dead skin cells, excess oil and residue to reveal healthier, younger looking skin. Contains the soothing power of green and white tea.

Purifying Green Tea Cleanser


This foaming cleanser is soap-free, and ideal for all skin types. Containing a special antioxidant formula a green tea, citrus extract, and cucumber to leave the skin feeling clean and refreshed.

Refreshing Facial Toner


A refreshing toner that contains glycolic acid and witch hazel to degrease the skin, as well as chamomile and comfrey to cool and calm the skin.

Soothing Green Tea Cleanser


A rich soap-free cleanser gently cleanses and moisturizes the skin without drying. The cleanser contains a special antioxidant formula of liposomal vitamin A,C,E,Green Tea and White Tea, along with Co-Q10.

La Nouvelle Eye Products

Hyaluronic Acid Gel


Formulated for the delicate area under the eyes, this nourishing serum delivers the super hydration benefits of hyaluronic acid to soothe, smooth and plump the eye while restoring a natural desired appearance. This multipurpose serum is also a wonderful lip treatment and ideal after botox!

Intensive Eye Lightening Serum


Our specially formulated eye serum contains a comprehensive system of peptides, chelator, antioxidants and moisturizers. It is the gentle, yet effective approach to help with the reduction in the appearance of under-eye dark circles and puffiness. This serum will also enhance skin texture and smoothness, increasing skin firmness around the eyes and reducing the appearance of fine lines and wrinkles.

La Nouvelle Moisturizers

Fortified Moisturizer


Our Fortified formulation is ideal for the dry skin patients that require a heavier moisturizer.

Sheer Moisturizer


Our Sheer moisturizer is an oil-free formulation that contains a combination of glycerine, squalene and liposomal vitamins to provide a wonderful light moisturizer.

La Nouvelle Treatments

Fortified Green Tea Serum


Green tea is one of the most powerful antioxidants known to man. This treatment has been specially designed to deliver the most green tea benefits, helping to reduce lines, wrinkles and pore size. This unique formulation also acts to calm and cool the skin and reduce redness and pore size, it is ideal after any cosmetic procedure.

Retinol Smoothing Serum


Our Retinol Smoothing Serum assists in the achievement of smoother, firmer and more evenly tone skin. Retinol (Vitamin A) helps to reduce the appearance of lines and surface wrinkles, revitalizes, smooths and enhances skin tone and texture, and texture, and helps to minimize the visible signs of aging. The Retinol Serum has been enhanced with Green Tea Polyphenols for its antioxidant properties and to help calm and cool the skin.

Skin Enhancing Treatments Pads with Glycolic Acid


Our convenient glycolic pads contain ultra-pure crystalline glycolic acid and liposome encapsulated vitamins to enhance and exfoliate the skin. Our pads are convenient and easy-us-use.

Vitamin C Serum with TGF-B-1 Growth Factor


This amazing formulation combines the powerful antioxidant properties of Vitamin C with the specially selected of Vitamin C with the specially selected human growth factor-TGF-beta-1. TGF-beta-1 is the growth factor involved in collagen production while vitamin C act as a powerful antioxidant. This serum will help reduce lines and wrinkles and improve overall skin look. In an initial study after 60 days patients are experiencing a 30% increase in collagen and 50% decrease in lines and wrinkles.

La Nouvelle Sunscreens

Anti-Photoaging Complex SPF 45


The Anti-Photoaging Complex has been formulated with Avobenzone and Micronized Zinc Oxide to block UV radiation and provide broad spectrum of UVA/UVB protection. This formulation also delivers a unique antioxidant free radical quenching and neutralizing complex composed of the latest state-of-the-art ingredients including: Silymarin, Activated Vitamin E, Bisabolol, Green Tea Polyphenols, Ectoin and Caffeine.

Micronized Zinc Sunscreen SPF 30


This elegant sunscreen provides 17% Micronized Zinc in a moisturizing formula to provide the highest level of broad spectrum protection. Chemical and oil free, this is the ideal sunscreen for anti-aging and post-procedure. Contains liposomal vitamins for further antioxidant protection.
Give us a call so you could get wonderful La Nouvelle Products! (805) 988-2638