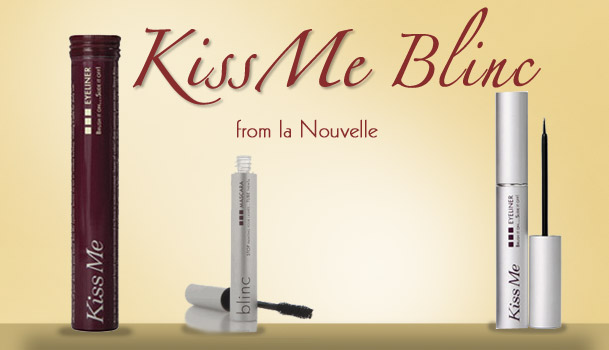 Kiss me and Blinc Mascara at La Nouvelle
La Nouvelle Kiss Me Blinc

Blinc Mascara


Formerly known as Kiss Me, blinc is the original mascara invented to form tiny water-resistant "tubes" around your lashes rather than painting them like conventional mascaras. Once applied, these beauty tubes bind to your lashes and cannot run, smudge, clump, or flake, even if you cry or rub your eyes.

Whether your daily activities take you from the office, to your sweaty workout and then out to dinner, your lashes will look as good in the evening as they did when you first applied blinc in the morning.

Blinc mascara will add volume and length to give you a radiant natural look that lasts all day. Only when you are ready for removal, the tubes will effortlessly slide off your lashes into your hand without the use of a harsh makeup remover. Upon removal you will actually see the tiny beauty tubes in your hand!

Blinc is better than waterproof mascaras. All it takes is the combination of lots of warm water and gentle pressure, from your fingertips, a washcloth or water pressure (i.e. shower) and the tubes will slide off your lashes effortlessly.

Blinc mascara has been clinically tested to be non-irritating making it ideal for sensitive eyes, contact lens wearers, and active people in search of a mascara whose look, hold and ease of removal is without compromise.

Kiss me Mascara


Forget everything you know about mascara. Now you can learn about KISS ME! It is not a paint. Conventional mascaras are generally oil-based paints. Kiss Me mascara does not paint the lash, but rather, forms a tiny tube around every lash.

The tube adds volume as it wraps itself around the lash, and it also extends past the lash thereby providing a lengthening result as well. It will not smudge or run. Only paints have the tendency to run and/or smudge. Since Kiss Me mascara does not have the properties of a "lash paint", it cannot run or smudge as they do...even when subjected to rain, sweat or tears.

The dense texture allows for long lasting wear that provides the same striking look at midnight, as when it was first applied in the morning…without re-applying!

Simple to Remove. Kiss Me mascara is applied just like any other mascara, however, its removal is revolutionary. Only a combination of warm water and gentle pressure - not one or the other, but both - will easily allow you to remove the mascara when desired.

Upon removal, you will actually see the tubes slide off effortlessly from your lashes. This is done without residues remaining on the lash, unlike oil-based paint mascaras…an ideal solution for people with sensitive eyes and/or those who wear contact lenses.
Give us a call so you could get wonderful Kiss Me Blinc Mascaras! (805) 988-2638
We can ship all our products!