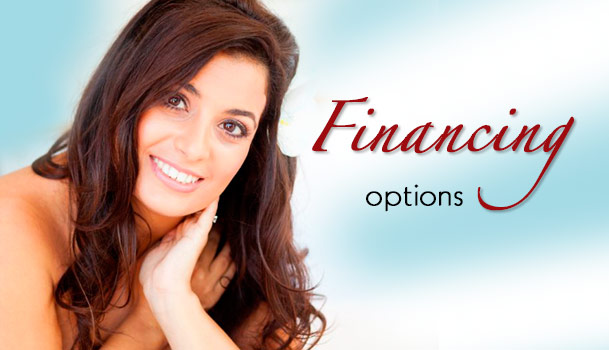 Enjoy our 4 Financing Options!
Having a cosmetic procedure is an investment in yourself, you will look better and feel better about yourself! If you'd like to make a change in your appearance, but you're worried about the cost, we will be happy to help you.
Here, at La Nouvelle Medical Spa in Oxnard, Ventura County, we would like to work with you and make it easy for you to afford the services you want. We offer convenient plastic & vaginal surgery financing to fit your budget, so you can have your procedure on your schedule.
The following four Finance and Reward Programs are available at La Nouvelle to help make your services more affordable each time you come in:
Financing
Are you tired of paying extremely high rates for your treatment financing? Lucky for you, you're able to finance your dream procedure at 0% interest (credit permitting) for 3-20 months by obtaining financing through our affiliate, Shorr Solutions. A credit card can be obtained in your name, letting you walk out of the door with your procedure scheduled, and long before your payment is due.
Typically, your card will arrive in 7-10 days. Once the card arrives, present the information to our office and begin financing your procedure.
Sign up for Shorr Solutions Financing today!
CareCredit
CareCredit gives you the freedom to get your procedure whenever you're ready. It's easy to apply. With three simple steps, including an instant approval process, you can say goodbye to the waiting time and reward yourself sooner. CareCredit offers special financing with convenient payment options.
CareCredit providers can offer a variety of No-interest* and Low Monthly Payment plans. And, CareCredit works just like a credit card so it's easy to use over again without having to reapply.
Apply for CareCredit online today!
Prosper Healthcare Lending
Prosper Healthcare Lending is the premier financing company in the healthcare industry. With over $3 Billion borrowed and over 250,000 people empowered, this is a name and a program you can trust. Here are some of the benefits you'll receive with a loan from Prosper Healthcare Lending:
Immediate decisions for loans under $35,000
Longer terms for lower monthly payments
No collateral required
No prepayment penalties
Fast & easy loan inquiry process
100% Confidential
SUBMIT A LOAN INQUIRY for Prosper Healthcare Lending today!
Brilliant Distinctions
The Brilliant Distinctions™ Program is an exciting loyalty program that offers a multitude of great rewards when you purchase any product by Allergan, the makers of Botox. Earn points each time you get BOTOX® Cosmetic and/or JUVEDERM® treatments, as well as LATISSE® or VIVITE® Skin Care products. Redeem your points for big savings on BOTOX® Cosmetic, JUVEDERM® , LATISSE®, and VIVITE® Skin Care products Earn a higher return per point as you accumulate more points, which means the more you participate in the program, the greater the rewards!