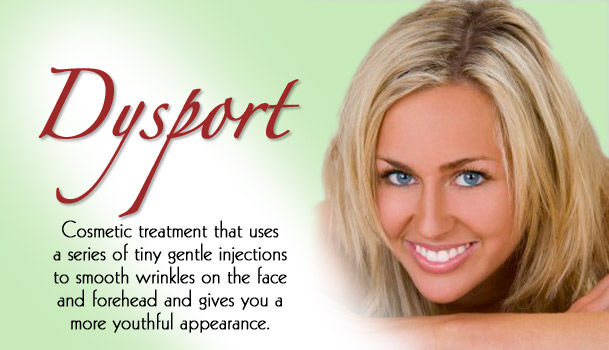 Dysport Injections for Wrinkle Removal, Ventura County
Dysport is a simple, effective, non-surgical treatment that works by relaxing facial muscles on the forehead, thereby reducing and smoothing away frown-lines and wrinkles. Dysport, like Botox Cosmetic is a protein extracted from the bacterium Clostridium Botulinum. Dr. Antoine Hanna observes and reports dramatic and fast results (some of them you can see in 48 hours!) in his patients.


Dysport Injections - Before and After Images
Before & After*

See what our patients say about the procedures by Dr. Hanna*
"I'm thrilled with the results of Dysport. Thank you Dr Hanna. It is very important for my work."
Michael F
"I've done Dysport at La Nouvelle Spa and I love it. I was very pleased with the spa ambiance, professionalism of the staff and especially Dr Hanna. Thank you"
Jim K (Agoura Hills)
Dysport is an injection used to temporarily improve the look of moderate to severe frown lines between the eyebrows (glabellar lines) in adults less than 65 years of age. Dysport is a purified formulation that has been shown to deliver temporary improvements in moderate to severe frown lines, even with repeat treatments.
Frown lines: What causes them?
Over time, repeated movement of the facial skin by the muscles forms frown lines between the eyebrows. Wrinkles are not only age related. Frown lines are "dynamic" - they happen because of the way a person's face moves. Because frown lines are created by facial movements such as frowning or squinting, they may develop even in younger adults. Dysport is used to treat these moderate to severe frown lines.

The muscles above and between the eyebrows contract and tighten, and can cause wrinkles. Dysport blocks the nerve signal that causes these facial muscles to contract. This ultimately results in a localized reduction of muscle activity in the treated area and temporarily stops the contraction of these muscles.
How does Dysport work?

With just 1 injection into each of 5 points between and above the eyebrows, Dysport stops the signal from the nerve to the muscles, ultimately resulting in a reduction of muscle activity and temporarily preventing contraction of the muscles that cause frown lines. The untreated facial muscles still contract normally, allowing you to freely show facial expressions, such as smiling, in untreated areas.
You should not be treated with Dysport more frequently than every 90 days.
Dysport dimensions
No downtime: With Dysport, there is little to no downtime after injection. Ask Dr. Hanna about any precautions you should take after your treatment. Call our office right away if you have any problems swallowing, speaking, or breathing. If this happens, do not drive a car, operate machinery, or do other dangerous activities. If you'd like to read in more details about Dysport Safety click here.
Repeatable results: In clinical trials, the efficacy of Dysport was demonstrated with up to 4 repeated treatments. You should wait at least 90 days between treatments. The safety of Dysport has been studied in up to 12 repeated treatments.
Worldwide experience: Dysport is used for aesthetic purposes in 36 countries. In U.S. clinical trials, Dysport safety was studied in more than 2400 aesthetic patients. A total of 376 patients were studied for efficacy of the product.
Is Dysport Better Than Botox?
Many cosmetic physicians outside the U.S. who have used Dysport report greater longevity when compared to Botox. Study results also showed Dysport to be more effective than Botox with a similar safety and side effect profile when used in a 3:1 dose relationship. The results of this study, both physical observation and patient feedback, indicated that Dysport was faster acting and longer lasting than Botox when used in a 3:1 unit ratio to Botox.
During your free initial consultation, Dr. Hanna will evaluate your unique needs and desired end results, and explain the procedure in detail.
Before and After Images

Before & After*
*There's no guarantee of specific results. Results may vary from person to person
Before & After*
*There's no guarantee of specific results. Results may vary from person to person
If you'd like to view more before and after pictures, please visit our Dysport Library as well as check out testimonials from our happy clients and see why Dr. Hanna is the expert in Dysport Injections.