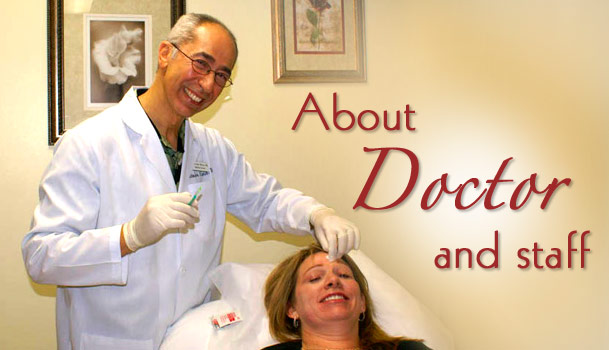 Dr. Antoine Hanna, MD - Medical Director and Cosmetic Surgeon of La Nouvelle Medical Spa, Oxnard, Ventura County
Dr. Hanna has practiced cosmetic medicine for many years. He is a diplomate of the American Board of Cosmetic Surgery. He is a member of American Society of Cosmetic Breast Surgery, Member of the Nation Society of Cosmetic Physicians, Member of the Royal College of Obstetrics and Gynecologists of London, U.K., Member of the American Board of Obstetrics and Gynecology, Member of the California Academy of Cosmetic Surgeons, Member of the American Academy of Cosmetic Surgeons, and other boards. He serves on the faculty of the American Academy of Aesthetic Medicine and has lectured nationally in Cosmetic Gynecology. Dr. Hanna is a certified trainer in laser treatments and serves as a guest speaker sharing his experience with others. He specializes in facial fillers, body sculpting, breast augmentation and vein removal treatments. Dr. Hanna is the founder and Medical Director of La Nouvelle Medical Spa in Oxnard, California. He has been practicing in Ventura, Oxnard and Camarillo for over 25 years. Please see the detailed CV below.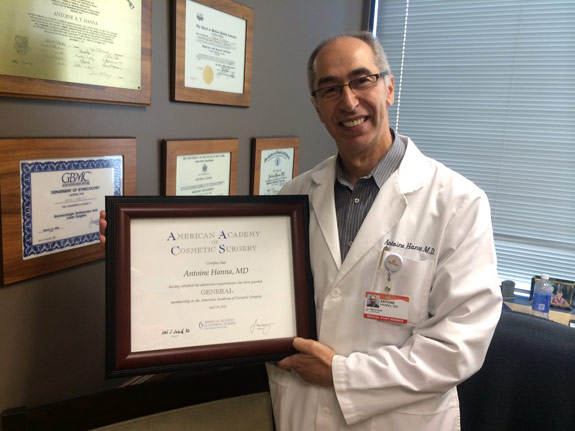 Curriculum Vitae
Antoine A. Hanna. M.D., MRCOG, FACOG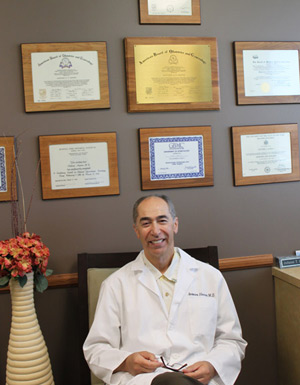 Graduate Education:
Cairo University, School of Medicine 1970-1975
Cairo University Hospital Internship 1976
Internship
St. Pierre University Hospital, Belgium, Brussels 1977
Training: United Kingdom (ENGLAND)
All Saints Hospital, Chatham, Kent, England 1978
Obstetrics/ Gynecology Residency (England) 1977-1982
Musgrove Park Hospital, Taunton, Somerset, England
The Sheffield Hospital For Women, Sheffield, England
North Devon District Hospital, Devon, England
Board Certification in OB/GYN in England MRCOG 1982
Post Residency Employment - Torquay General Hospital 1983-1984
OB/GYN Residency Training in U.S.A.
State University Hospitals of New York at Buffalo
The Children hospital for Women
Buffalo General Hospital
Millard Fillmore Hospitals
Erie County Medical Center
Roswell Park University Hospital 1984-1988
Board Certification in OB/GYN in USA FACOG
Diplomate of The American Board of Obstetrics and Gynecology 1991
Board Recertification in OB/GYN 2011
Private Practice in OB/GYN 1988-present
Private practice in Cosmetic Surgery & Medical Director of La Nouvelle Medical Spa
Board Certified in Cosmetic Surgery/ Diplomate of the American Board of Cosmetic Surgery 2013
Hospital Staff Privilege
St John Hospital Medical Center, Oxnard California
St John Pleasant Hospital, Camarillo, California
Community Memorial Hospital, Ventura, California
Spanish Hills Surgery Center, Camarillo, California
Channel Islands Surgical Center, Oxnard, California
Membership
Member of the Royal College of Obstetrics and Gynecologists of London, U.K.
Member of the American Board of Obstetrics and Gynecology
Member of the Nation Society of Cosmetic Physicians
Member of the American Academy of Cosmetic Gynecology
Member and past speaker of the American Academy of Aesthetic Medicine
Member of the American Academy of Cosmetic Surgeons
Member of the California Academy of Cosmetic Surgeons
Nomination and Awards
The Sacred Encounter Award from St. John Regional Medical Center For dedication and healing hands 2011
Nomination for the Physician of the year 2009, St. John Medical Regional Medical Center
Nomination for the physician of the year 2014, St. John Medical Regional Center
Training and Workshops
Laser Cutera Yag training with Dr. Bruce Russell, M.D. 2004 Manhattan Beach California
Laser Candela Gentle Yag training for Acne, Acne scars, Vascular and Facial wrinkles, periorbital wrinkles and hair removal, 2004 Irvine, California
Aesthetic Enhancement Institute for Botox training, May 2005, California
American Academy of Aesthetic Medicine, training on Aesthetic Fat and Mesotherapy training and workshop, May 2006, Los Angeles, California
Advancing Aesthetic Techniques and Practice, training for Facial Fillers June 2006, Beverly Hills California
The American Academy of Aesthetic Medicine 4th Congress, seminars on Lasers, skin tightening and other cosmetic treatments, Fort Lauderdale, Florida 2006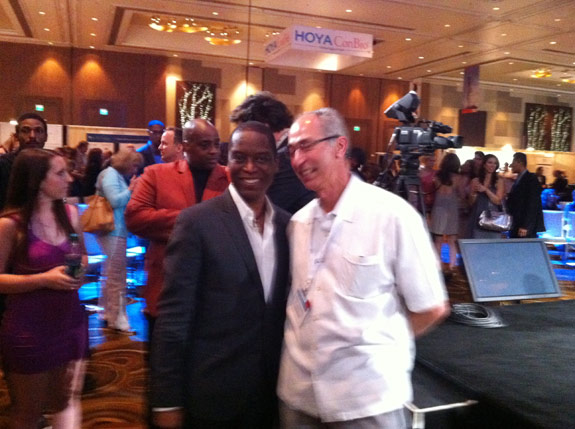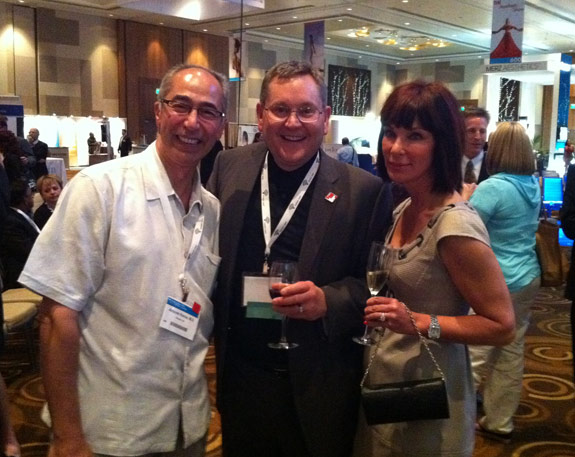 Getting to Know Doctor Hanna