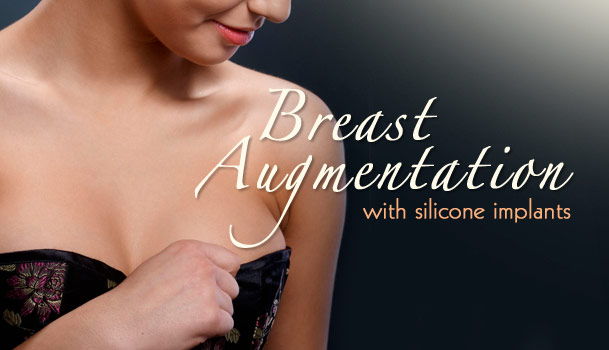 California Leaders in Breast Augmentation with Silicone Implants,
#1 in Ventura County!
Breast augmentation is one of the most popular kinds of plastic surgery. It enhances the size and shape of your breast, corrects imbalances, improves firmness, and restores the body contours. It is a great choice to enhance your figure. Dr. Hanna achieves amazing natural results in breast augmentation with Silicone Implants.
Usually women add two sizes to their breast. Sometimes, they can go for even more in breast augmentation. Talk to Dr. Hanna to determine your best solutions.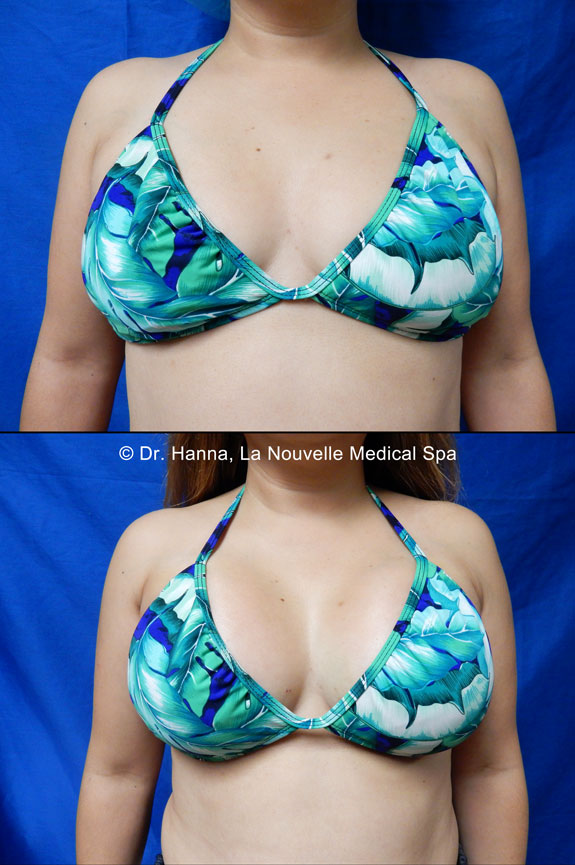 Patients' Testimonials and Before & After Photos of Breast Augmentation
Consultation Before the Procedure

Now offering Breast Lifts!
Please note that there are 2 distinct procedures - Breast Augmentation with Silicone Implants and Breast Lift. Breast Augmentation works perfect for younger girls or women who didn't have babies - for patients who would like to increase the size of their breast.
Breast Lift is a perfect procedure for women who've already had babies and who have the sagging breast, that unfortunately often comes with having babies, and who would like to lift the breast to have a younger look.
Now we can combine both of these procedures - you can lift up the breast while also increasing the size and have gorgeous breast you've always dreamed of!!!
What is Breast Enhancement / Augmentation?
There are so many women dissatisfied with the look of their breasts, and as a result the breast augmentation industry is booming. Breast augmentation is a beneficial procedure that can address conditions such as breast asymmetry and can help women who have had surgery on their breasts due to breast cancer. It is also beneficial for anyone else who simply does not like the look of her breasts, whether it is due to genetics, aging, pregnancy or breast feeding.
Breast Augmentation Step-by-Step
Reasons for Breast Augmentation
Being genetically disposed to smaller breasts.
Being genetically disposed to breasts that are not symmetrical, with one breast having a different size or shape than the other.
Reduced firmness from aging.
Drooping or sagging breasts after child bearing and breast feeding (this condition requires two procedures: breast lift and breast augmentation).
Breast cancer patients often seek breast reconstruction surgery because a breast is partially or totally removed as part of the cancer treatment.
Types of Breast Implants
Currently there are three types of implants at our disposal. Silicon, Saline, and your Breast-Implants own harvested fat. Breast implants come in a variety of shapes and sizes. Doctor Hanna uses silicone implants in his practice as they produce the most natural look. Size of breast implants is measured in cubic centimeters (cc) and determines the volume of the implant; the higher the volume the bigger the implant. The profile, is the appearance of the shape of the implant from the side. High profile breast implants produce a rounder appearance and more outward projection, that is better for those who have loose or droopy skin or women that desire more projection. Moderate profile breast implants create a more natural shape and appearance and are commonly used for those that have a tighter skin and smaller breast and wish for a more subtle natural look. We always recommend you to stop by our office, with a tank top or a swimsuit, and try on several breast implants to determine which implants look the best on you.
Position of Breast Implants
The position of breast implants, either above or beneath the pectoral muscles, will be determined at the time of your consultation with Dr. Hanna. Generally if a patient has some minor drooping or loose skin envelope or has a good amount of skin thickness to cover over the implant, we will place implants over the muscle. If a patient is very slender or has very tight skin envelope then we will place the implant behind the muscle.
Breast Incision Location
Dr. Hanna knows that scarring is a major concern for many women who are considering breast augmentation so he offers a variety of techniques for implant placement to best suit his patients and their needs. The Breast augmentation incision may be placed in the armpit (transaxillary), around the nipple (periareolar), in the breast fold (inframammary), or through the navel (TUBA). Dr Hanna will determine which of these incision locations is most appropriate for your body type, goals, and personal preference.
Breast Augmentation Recovery
During breast augmentation recovery, patients commonly experience temporary swelling, bruising, numbness, and discomfort but this will quickly disappear. Pain medication can be prescribed to help relieve pain during your recovery. Dr. Hanna will fit you with a support bra the following day after the surgery which you will wear for the next four to six weeks. Most of our breast implants patients can return to work and normal activities in about a week. Heavy exercising is not allowed on the day and during a couple of days following the surgery.
Cosmetic breast enhancement often makes a woman feel more beautiful and confident. If you are considering a breast implant surgery, please contact our office for your complimentary consultation and for more information on breast augmentation surgery and recovery.