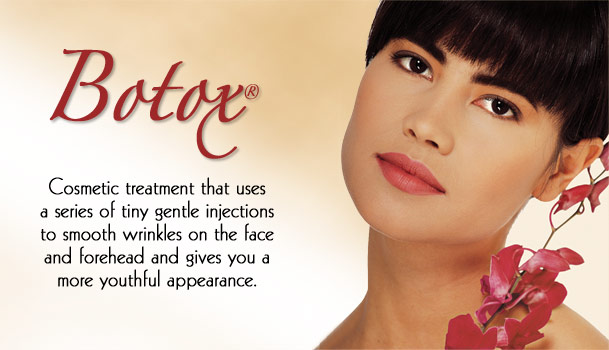 BOTOX Injections for Wrinkle Removal - Ventura
Discover amazing results that 15 million women and men have experienced. With real, noticeable results, no surgery and no recovery time, there are many reasons why BOTOX has been the most popular physician-administered, non-surgical aesthetic procedure for over 15 years.
Botox cosmetic treatment has been one of the most popular treatments performed by Ventura County cosmetic surgeon Dr. Hanna. Botox is an FDA-approved injectable that treats frown lines between the eyebrows and crow's feet lines on the sides of the eyes and lasts for up to 3-4 months.
Botox Injections
One of the most beneficial aspects of the Botox treatment is that it is a NON-INVASIVE procedure. That means that there is NO SURGERY required, and it can be done in 10 minutes with no recovery time needed. The process begins with Dr. Hanna examining your ability to move certain and critical facial muscles and once the injection sites are determined, he will administer several tiny injections into the muscles. Most patients describe injections as a small pin prick. Botox will work to reduce the contraction of your muscles that result in smoothing of your frown lines or wrinkles around the eyes, commonly called crow's feet. The results are usually seen in 7 days. Over the years, we noticed that sometimes a patient can achieve different results between several procedures. Also, the results can be different for different people even though they used the same amount of product.

Wrinkle Removal with BOTOX - Before and After Images
See what our patients say about the procedures by Dr. Hanna*
"It was the second time as I went to La Nouvelle spa for Botox injections with dr. Hanna. What a wonderful doctor. Thank you! He takes time with the patient, he listened to me and the Botox injections were virtually painless - I could feel just a little bit on the sides of my eyes and didn't feel anything at all on my forehead. I truly recommend his office."
Olga Wright
"I did several Botox treatments at La Nouvelle spa. Dr. Hanna is an incredible doctor; he is very patient and very attentive. The whole team is very friendly. Love going there!"
Julia Ionov
"I used to frown a lot. Not really frown but I looked as if I was frowning all the time. I work in a hotel and you can imagine that it didn't help my carrier. I did the Botox and after a week or so the lines on my forehead started disappearing. I look so much more cheerful!"
Christina (Ventura County)
"Botox did a magic on me! I used to get so many wrinkles when I smiled that wasn't pleasing. Dr Hanna has a good touch. I did Botox in a different spa but I didn't look natural when I would smile. After the Botox at La Nouvelle Medical Spa, my smile looks very natural but without too many wrinkles around my eyes."
Donna L (Thousand Oaks)
What is Botox?
BOTOX, a prescription medicine, is a purified protein that temporarily improves the look of moderate-to-severe frown lines between the brows in adults younger than 65 years of age. BOTOX is a simple, non-surgical treatment that is injected directly into the muscles and works by blocking nerve impulses to these injected muscles. This reduces muscle activity that causes persistent lines to form.
Botox is a purified protein produced by the Clostridium botulinum bacterium, which reduces the activity of the muscles. Botox injections are some of the most commonly performed cosmetic procedures. They are used to smooth wrinkles on the face and the forehead. A series of minute and tiny gentle injections into isolated muscles give astonishing results and youthful appearance. The effect lasts from 3 to 6 months or more. Botox beautifully works for men and women.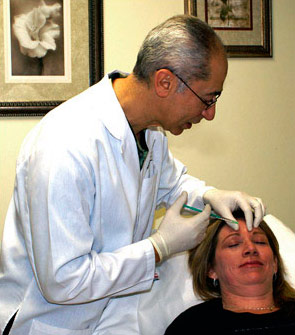 How does Botox work?
Your brain sends messages to your muscles so that they can contract and move. Botox works to block this message. As a result, the muscles relax and the skin above the muscles remains smooth and unwrinkled.
What areas Botox is used for?
BOTOX is approved for the temporary treatment of moderate to severe Frown lines, Forehead lines, Crow's Feet, Nose wrinkles, Marionette Lines and chin wrinkles in people ages 18 to 65. BOTOX is also approved for excessive underarm sweating when topical agents don't work.
Brow Lifting Alternative
Traditional brow lift surgery involves an incision along the hairline from ear to ear, lifting the skin, and adjusting the muscles in the brow. More recently, the endoscopic brow lift procedure has become a popular alternative. Results are usually good, with small incisions in the hairline. For his patients with mild heaviness to their brow, Dr. Hanna recommends trying BOTOX injections prior to going under the knife.

BOTOX Cosmetic smooths out wrinkles by weakening and relaxing the muscles that cause skin to wrinkle. More than just smoothing out worry and frown lines, BOTOX injections can create a lifting effect by relaxing the muscles that pull down on the eyebrows. This not only raises the ends of the eyebrows into a more pleasing arch (correcting a downward slanting "sad eyes" appearance), but also opens the eyes, reducing the "hooded" appearance so common in middle aged eyes. This procedure is appropriate for mild brow drooping only.

During your free initial consultation, Dr. Hanna will evaluate your unique needs and desired end results, and explain the procedure in detail.
Before and After Images

Before & After*

Before & After*
*There's no guarantee of specific results. Results may vary from person to person
Botox for Crow's Feet
BOTOX Frequently Asked Questions
What does Botox do?
"Botulium Toxin" is a nerve impulse blocker. It is used to cosmetically freeze the muscles that cause unwanted wrinkles in your face giving you a younger more relaxed appearance. Deep frown lines can virtually disappear, as well as crows feet, forehead wrinkles, and smoker's lines above the lip. More than just smoothing out frown lines and wrinkles, BOTOX Cosmetic injections can create a lifting effect by relaxing the muscles that pull down on the eyebrows. La Nouvelle Medical Spa is successfully using Botox as an anti-aging treatment.
Is Botox safe?
BOTOX Cosmetics has been recognized by the American Academy of Neurology, American Academy of Ophthalmology, and National Institutes of Health, as a safe and effective treatment. Over 10 years of clinical experience involving thousands of patients is a testimony to the potential benefits of this treatment.
How long does Botox last?
BOTOX Cosmetics lasts 3-6 months with the first treatment and generally longer with subsequent treatments. It is important to understand that BOTOX Cosmetics is an effective, ongoing treatment for the relief of symptoms only - it is not a cure. And, because every patient is different, the degree of relief will vary from person to person.
Who does the treatment?
Dr. Antoine Hanna.
Is Botox painful?
A very small needle is used with minimal discomfort experienced by most clients. No anesthesia is necessary.
Are there any side effects?
BOTOX Cosmetics is generally well tolerated by patients. Side effects are rare and usually transient in nature.
How long does it take to work?
Effects can be seen as early as 48 hours and can take up to two weeks for the treatment to take full effect.
How long does the treatment take?
About 30 minutes is sufficient to fill out a patient evaluation form and for treatment to be given. Clients may go home immediately following treatment.
After care?
Specific instructions will be reviewed at the time of treatment. Patients are asked NOT to massage the site, to remain upright, and to exercise the targeted muscles as much as possible in the 3-4 hours after treatment. This will give the best results.
If you'd like to view more before and after pictures, please visit our Botox Library as well as check out testimonials from our happy clients and see why Dr. Hanna is the expert in Botox Injections.