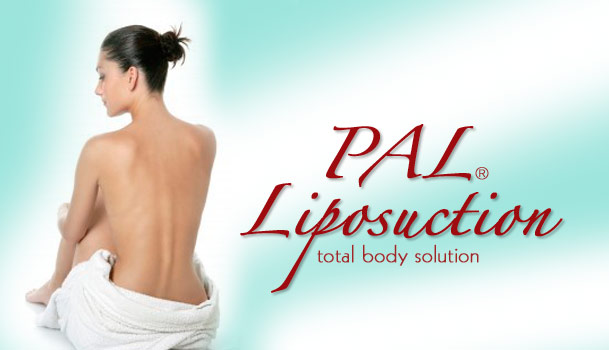 #1 in Power Assisted Liposuction (PAL Lipo), Ventura
Every year, thousands of men and women choose liposuction surgery to remove the fatty deposits that just won't respond to diet and exercise. That's why liposuction has become the number one cosmetic procedure in the United States.
One of the most popular forms of liposuction to date has been the Tumescent Liposuction Technique or liposuction done under local anesthesia. During this safe and effective procedure large volumes of saline solution, local anesthesia, and adrenaline are infused into the fatty area being treated. The fat is then removed through a small instrument called a cannula. The cannula is inserted into the fatty tissue through tiny incisions placed in inconspicuous locations. Dr. Hanna gently moves it around under your skin, suctioning away the unwanted fatty deposits. The procedure sculpts bulging areas to reveal more attractive contours.
Now liposuction can be performed with Power Assisted Liposuction (PAL), a new technique that complements Tumescent Liposculpture.

Power Assisted Liposuction (PAL Lipo) - Before and After Images
Before & After*

What is Power Assisted Liposuction (PAL Lipo)?
Because it can be difficult to move a cannula – the liposuction tube used to remove fat – back and forth through fat tissue, surgeons are not always able to effectively remove all unwanted fat. PAL, or power assisted liposuction, features a device that enables Dr. Hanna for more precise and thorough fat removal. This device produces rapid, small vibrations to break up fat so that it can easily be suctioned out through the cannula.
Power Assisted Liposuction (PAL) devices have recently become available. These devices use power supplied by an electric motor or compressed air to produce either a rapid in-and-out movement or a spinning rotation of an attached liposuction cannula. This helps Dr. Hanna to achieve better and smoother contouring.
PAL can be used on:
• Arms • Hips • Chest • Breasts • Knees • Ankles • Waist • Stomach • Chin • Back • Buttocks • Neck • Thighs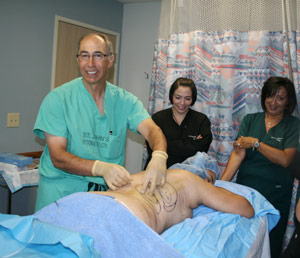 It's a pleasure to treat our patients!
Benefits of PAL lipo
Dr. Hanna doesn't need to use as much force during a power assisted liposuction because the vibrating cannula helps release fat cells from the body. In a study led by the Department of Dermatology at Tulane University Health Sciences Center, researchers found that 30 percent more fat was removed with PAL liposuction technique than with manual liposuction, while bruising and recovery time were significantly reduced. This makes this type of fat removing procedure useful for treating areas that are notoriously difficult to sculpt, including the inner thighs, belly button area, and male breasts.
Because the power assisted liposuction procedure takes less time to perform than manual liposuction, patients are less susceptible to complications and safety risks. Patients report many lasting benefits of fat removal with liposuction.
Advantages include:
• Improved Safety
• Shorter Procedure
• Less Bruising and Swelling
• Faster Recovery
• Less Discomfort
• Smaller Incisions
• Greater Precision
Difference between "traditional" Liposuction and Vaser Lipo or PAL Liposuction
"Traditional" Liposuction is simply taking the fat out by suction it from under the skin. Other types of liposuction use additional technologies to "dissolve" or "melt" fat before the actual liposuction. It helps better shaping / body contouring and has other advantages.
Vaser Lipo (Liposuction) uses state-of-the-art ultrasound technology designed to gently reshape your body. It breaks up fat while preserving important tissues to promote smooth results and rapid healing.
Please read more about Vaser Lipo (Liposuction) here
PAL Liposuction uses technology based on electricity to "dissolve" or "melt" fat before liposuction. It also preserves fat better. This can be very important if you'd like to reuse this fat for some other place - like for Breast Enhancement (transferring your own fat to your breast) or other parts of your body for better contouring.
Is this procedure painful?
Usually, we ask our patients to evaluate their level of pain. All the patients replied that their level of pain was between 0 and 1 on a scale from 0 to 10.
What is the advantage of local anesthesia?
PAL is performed using the tumescent liposuction technique, in which an anesthetic liquid is injected into the treatment area for smooth fat transfer through the cannula and out of the body.
The great advantage is that we can talk to patient all the time, check how he or she is feeling, discuss if some areas should be addressed more. This is without mentioning that we laugh, tell stories and jokes. Some of our patients even talked on the phone!
Read more about Tumescent Liposuction or Liposuction done by local anesthesia.
How much fat can be taken during PAL liposuction?
There are limits to how much fatty tissue can be safely taken from the body. One way to get a good idea for yourself is to stand and bend from the waist. The amount of 'loose-hanging' fat you can easily grab above / below your waist will approximate what can be removed. Bear in mind that this procedure is not intended as a weight loss solution. The goal is to create a slimmer silhouette.
How soon will I see my results? What is the recovery time after power assisted liposuction?
This varies with the extensiveness of the procedure - the amount of fat removed, the number of sites treated, and so on. Many patients report that they see results immediately after the procedure with the final result at around 3 to 6 months.
Please read additional information on returning to work, financial plans and consultations here.
If you'd like to view more Power Assisted Liposuction (PAL Lipo) before and after pictures, please visit our Library. Please also check out testimonials from our happy clients.